Large firebox, re enactment, camping, bushcraft, LARP, SCA
Listing Ended. This listing from
the_iron_dwarf
[
+151
] ended on Fri 05 May 2017 11:12:39 (BST). If you were involved in this then you can
click here
to login and view it within My eBid. To see more items from this seller
click here
. Public bidding/purchase history
can be seen below
.
Condition : New
Dispatch : Not given
Quantity : 5 items


(still available: 4)

Barcode : None
Start : Tue 25 Apr 2017 11:12:39 (BST)
Close : Fri 05 May 2017 11:12:39 (BST)
Remain :

Listing Closed

BACS/EFT Bank Transfer, Checks/Cheques, Money/Postal Orders, Other: See Description
Domestic Shipping to
United Kingdom

for
1
item(s)
edit
Other Courier - (Non Next Day) = £16.00
Seller's Description
FIREBOX SUITABLE FOR REENACTMENT OR CAMPING

I have designed this large firebox so it can be packed away when not required but can be assembled in minutes with the no tools.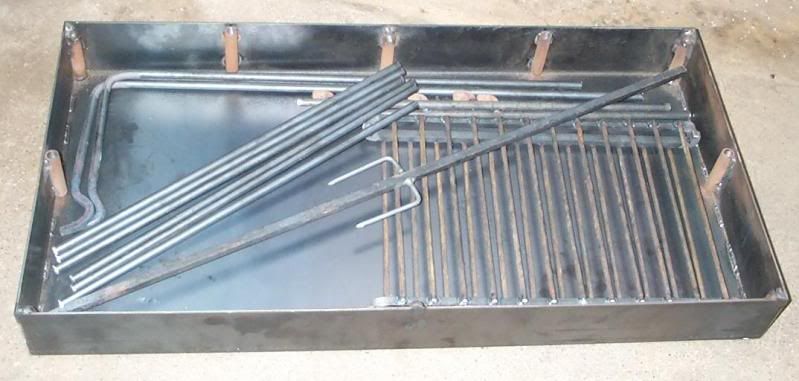 this picture shows it all packed inside the tray.
the standard legs for this make the bottom of the tray just over 18" ( about 450mm ) above the ground to comply with campsite regulations and so the person using it does not have to bend down so much. ( other length legs are avaliable if required ) height of the top of the tray is about 22" above ground.
this is fitted with a square section spit which unlike others does not always turn to the heaviest point and burn your meat on one side unless you continuously hold it, the uprights for the spit are easy to remove and can be replaced by the pot hanger in the next picture.
the point on the spit and the hook on the pot hangers are forged, most of the rest is made from 43a steel.
the welded bar grills on top covers only two thirds and are made to slide from side to side so you can feed the fire more easily. the tray is 3mm thick and about 450mm by 900mm and 100mm deep and all parts fit inside the tray for storage or transport.
I also do a medium sized firebox if you want a more blackened and aged look I can advise on several ways to achieve this quite easily.
I can post this to most places in the British isles at the stated rate for 48 hour delivery or it can be collected in person from my workshop or at any event I go to.
places considered as 'offshore' by the carriers I use like Northern Ireland may take a day or two longer and may cost a little more, please contact me if in doubt.
I am also happy for you to arrange your own carrier to collect from me if you wish
IF COLLECTING IN PERSON I ACCEPT CASH ON COLLECTION.
PLEASE ASK IF YOU HAVE ANY QUESTIONS.
Not a member of Ebid yet?
you can join here and it is free!!!!!!!
http://uk.ebid.net/perl/normal.cgi?ref=52487&mo=register-main
Listing Information
| | |
| --- | --- |
| Listing Type | Gallery Listing |
| Listing ID# | 153763011 |
| Start Time | Tue 25 Apr 2017 11:12:39 (BST) |
| Close Time | Fri 05 May 2017 11:12:39 (BST) |
| Starting Bid | Fixed Price (no bidding) |
| Item Condition | New |
| Bids | 1 |
| Views | 1 |
| Dispatch Time | Not given |
| Quantity | 5 |
| Location | United Kingdom |
| Auto Extend | No |
Returns Policy
Returns Accepted
Purchase Activity
Winning Bids
Bidder Username
Bid Time & Date
Bid
Qty
No Bids as of Yet
Won using BuyNow
Bidder Details
BuyNow Date & Time
Price
Qty
adambaxt [+1]
Fri 03 Feb 2017 21:48:54 (BST)
£150.00
1

Important :Multiple items available. See more info links above in the "Bid" or "BuyNow" forms.
Questions and Answers
Question From adambaxt [+1]
Thu 02 Feb 2017 20:38:55 (BST)
Hi - I'd like to buy the large box here. Would it be possible to order a second spit with it? I can transfer the extra money direct by paypal, or whatever works easiest. Many thanks, Adam
Answer From the_iron_dwarf [+151]


Thu 02 Feb 2017 22:03:29 (BST)

if you are local or are going to one of the events im trading at see me there( wood green near huntingdon in a few weeks or TORM near coventry or my shop is at NN14 1QF ) or I can send it, it may put cost of sending it up a little as these are very close to the 30kg limit for the present cost. extra spit with hand forged point £15
Question From adambaxt [+1]
Thu 02 Feb 2017 22:56:57 (BST)
No, I'm on the south coast and (sadly) won't be going to TORM etc. Let me know the total with the extra postage, if any, and it's a deal. :)
Answer From the_iron_dwarf [+151]


Thu 02 Feb 2017 23:02:06 (BST)

will check weight tomorrow
Question From adambaxt [+1]
Thu 02 Feb 2017 23:23:38 (BST)
Great, thank you. Adam
Answer From the_iron_dwarf [+151]


Fri 03 Feb 2017 20:52:42 (BST)

postage should be ok, see if you can add the extra when paying if you want
Question From adambaxt [+1]
Fri 03 Feb 2017 22:02:06 (BST)
Not as far as I could work out. Have paid the £150. Maybe if you give your paypal address I can transfer the £15 direct? Or put the spit up as a separate thing and I'll buy it? I don't know the best way to do it. I can give you my e-mail address so you can send me bank details if direct transfer is easier?
Answer From the_iron_dwarf [+151]


Fri 03 Feb 2017 22:08:16 (BST)

have sent you an email in reply to your payment so you now have my addy