SEPTIMIUS SEVERUS 193AD Kallatis NUDE Dionysus on Panther Roman Coin RARE i59632
Listing Ended. This listing from
ZlobinCoins
[
+14714
] ended on Thu 12 Oct 2017 11:39:05 (EST). If you were involved in this then you can
click here
to login and view it within My eBid. To see more items from this seller
click here
. Public bidding/purchase history
can be seen below
.
Condition : See Descr.
Dispatch : Next Day
Barcode :

None

Brand : Ilya Zlobin
Start : Wed 01 Mar 2017 18:04:58 (EST)
Close : Thu 12 Oct 2017 11:39:05 (EST)
Remain :

Listing Closed


Domestic Shipping to
United States

for
1
item(s)
edit
Not Known = $4.50
Add a video to your auctions, just type in the YouTube video id when listing on eBid.
Seller's Description
Item: i59632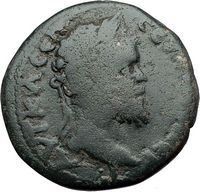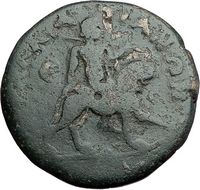 Authentic Ancient Coin of:
Septimius Severus - Roman Emperor: 193-211 A.D.
Bronze 25mm (12.12 grams) of Kallatis in Moesia Inferior
Reference: AMNG 304
AYT · K · Λ · CЄΠ - CEVHPOC ΠЄP, Laureate head right.
KAΛΛATIANΩN, Nude Dionysus riding panther right, holding thyrsos over shoulder; Є in field to left.
You are bidding on the exact item pictured, provided with a Certificate of Authenticity and Lifetime Guarantee of Authenticity.
---
Dionysus is the god of the grape harvest, winemaking and wine, of ritual madness, fertility, theatre and religious ecstasy in Greek mythology. Alcohol, especially wine, played an important role in Greek culture with Dionysus being an important reason for this life style. His name, thought to be a theonym in Linear B tablets as di-wo-nu-so (KH Gq 5 inscription), shows that he may have been worshipped as early as c. 1500–1100 BC by Mycenean Greeks; other traces of the Dionysian-type cult have been found in ancient Minoan Crete. His origins are uncertain, and his cults took many forms; some are described by ancient sources as Thracian, others as Greek. In some cults, he arrives from the east, as an Asiatic foreigner; in others, from Ethiopia in the South. He is a god of epiphany, "the god that comes", and his "foreignness" as an arriving outsider-god may be inherent and essential to his cults. He is a major, popular figure of Greek mythology and religion, and is included in some lists of the twelve Olympians. Dionysus was the last god to be accepted into Mt. Olympus. He was the youngest and the only one to have a mortal mother. His festivals were the driving force behind the development of Greek theatre. Modern scholarship categorises him as a dying-and-rising god.
The earliest cult images of Dionysus show a mature male, bearded and robed. He holds a fennel staff, tipped with a pine-cone and known as a thyrsus. Later images show him as a beardless, sensuous, naked or half-naked androgynous youth: the literature describes him as womanly or "man-womanish". In its fully developed form, his central cult imagery shows his triumphant, disorderly arrival or return, as if from some place beyond the borders of the known and civilized. His procession (thiasus) is made up of wild female followers (maenads) and bearded satyrs with erect penises. Some are armed with the thyrsus, some dance or play music. The god himself is drawn in a chariot, usually by exotic beasts such as lions or tigers, and is sometimes attended by a bearded, drunken Silenus. This procession is presumed to be the cult model for the human followers of his Dionysian Mysteries. In his Thracian mysteries, he wears the bassaris or fox-skin, symbolizing a new life. Dionysus is represented by city religions as the protector of those who do not belong to conventional society and thus symbolizes everything which is chaotic, dangerous and unexpected, everything which escapes human reason and which can only be attributed to the unforeseeable action of the gods.
Also known as Bacchus, the name adopted by the Romans and the frenzy he induces, bakkheia. His thyrsus is sometimes wound with ivy and dripping with honey. It is a beneficent wand but also a weapon, and can be used to destroy those who oppose his cult and the freedoms he represents. He is also called Eleutherios ("the liberator"), whose wine, music and ecstatic dance frees his followers from self-conscious fear and care, and subverts the oppressive restraints of the powerful. Those who partake of his mysteries are possessed and empowered by the god himself. His cult is also a "cult of the souls"; his maenads feed the dead through blood-offerings, and he acts as a divine communicant between the living and the dead.
In Greek mythology, he is presented as a son of Zeus and the mortal Semele, thus semi-divine or heroic: and as son of Zeus and Persephone or Demeter, thus both fully divine, part-chthonic and possibly identical with Iacchus of the Eleusinian Mysteries. Some scholars believe that Dionysus is a syncretism of a local Greek nature deity and a more powerful god from Thrace or Phrygia such as Sabazios or Zalmoxis.
---
A thyrsus or thyrsos was a wand or staff of giant fennel (Ferula communis) covered with ivy vines and leaves, sometimes wound with taeniae and always topped with a pine cone.
Symbolism
The thyrsus, associated with Dionysus (or Bacchus) and his followers, the Satyrs and Maenads, is a symbol of prosperity, fertility, hedonism, and pleasure/enjoyment in general. It has been suggested that this was specifically a fertility phallus, with the fennel representing the shaft of the penis and the pine cone representing the "seed" issuing forth. The thyrsus was tossed in the Bacchic dance:
Pentheus: The thyrsus— in my right hand shall I hold it?

Or thus am I more like a Bacchanal?

Dionysus: In thy right hand, and with thy right foot raise it".
Sometimes the thyrsus was displayed in conjunction with a kantharos wine cup, another symbol of Dionysus, forming a male-and-female combination like that of the royal scepter and orb.
Use
In Greek religion, the staff was carried by the votaries of Dionysus. Euripides wrote that honey dripped from the thyrsos staves that the Bacchic maenads carried. The thyrsus was a sacred instrument at religious rituals and fêtes.
The fabulous history of Bacchus relates that he converted the thyrsi carried by himself and his followers into dangerous weapons, by concealing an iron point in the head of leaves. Hence his thyrsus is called "a spear enveloped in vine-leaves", and its point was thought to incite to madness.
---
---
Mangalia (Romanian pronunciation: Greek: Callatis, Panglicara, other historical names: Pangalia, Tomisovara) is a city and a port on the Romanian coast of the Black Sea in the south-east of Constanţa County.
History
A Greek colony named Callatis (Kallatis) was founded in 6th century BC by the city of Heraclea Pontica. Its first silver coinage was minted approximately 350 BC. In 72 BC, Callatis was conquered by the Roman general Lucullus and was assigned to the Roman province of Moesia Inferior. Throughout the 2nd century AD, the city built defensive fortifications and the minting of coinage under the Roman emperors Septimius Severus and Caracalla continued. Callatis suffered multiple invasions in the third century AD but recovered in the 4th century AD to retain its status as an important trade hub and port city.
Since the 9th century it was known by the Turks as Pangalia, by the Romanians as Tomisovara and by the Greeks as Panglicara and it was one of the most important ports on the west coast of the Black Sea. Mangalia (former Callatis) is the oldest city, continuously inhabited, on the present territory of Romania.
Geography and climate
Mangalia is positioned at 43°49' latitude and 28°35' longitude, with an approximate elevation of 10 meters, 44 km south of the municipality of Constanţa, on the same latitude as the French resort of Nice. Mangalia is one of the southernmost resorts on the Romanian coast of the Black Sea.
Mangalia is characterized by a moderate maritime climate (annual average temperature 11°C - one of the highest in Romania) with hot summers (July average over 21°C) and mild winters (January average 1°C), Mangalia being the country's second place, after Băile Herculane, with positive average temperatures in wintertime. Spring comes early but is cool and autumn is long and warm. In summer, cloudiness is reduced (about 25 sunny days in a month) and the duration of sunshine is of 10–12 hours a day. Annual precipitation is low (about 400 mm).
The sea breeze is stronger in summer. The natural cure factors are the water of the Black Sea, which is chlorided, sulphated, sodic, magnesian, hypotonic (mineralization 15.5g), the sulphurous, chlorided, bicarbonated, sodic, calcic, mesothermal (21-28°C) mineral waters of the springs in the northern part of the city, in the area of the beach between Saturn and Venus, the sulphurous peat mud, rich in minerals, which is extracted from the peat bog north of the city (expected to last another 250 years) and the marine climate, rich in saline aerosols and solar radiation that have a bracing effect on the organism.
The resort has a large, fine-sand beach developed for purposes of aeroheliotherapy and wave therapy, as well as high seawalls with a specific microclimate where one may benefit from inhalations of saline aerosols having therapeutic effects.
---
Septimius Severus - Roman Emperor: 193-211 A.D.
Augustus: 193-211 A.D. | 193-198 A.D. Sole reign; 195-198 A.D. Caracalla as Caesar | 198-209 A.D. with Caracalla; Geta as Caesar | 209-211 A.D. with Caracalla and Geta
Husband of Julia Domna | Father of Caracalla and Geta | Uncle of Julia Soaemias and Julia Mamaea | Great-uncle of Elagabalus and Severus Alexander | Brother-in-law of Julia Maesa | Father-in-law of Plautilla |
Lucius Septimius Severus (or rarely Severus I) (April 11, 145/146-February 4, 211) was a Roman general, and Roman Emperor from April 14, 193 to 211. He was born in what is now the Berber part of Rome's historic Africa Province.
Septimius Severus was born and raised at Leptis Magna (modern Berber, southeast of Carthage, modern Tunisia). Severus came from a wealthy, distinguished family of equestrian rank. Severus was of Italian Roman ancestry on his mother's side and of Punic or Libyan-Punic ancestry on his father's. Little is known of his father, Publius Septimius Geta, who held no major political status but had two cousins who served as consuls under emperor Antoninus Pius. His mother, Fulvia Pia's family moved from Italy to North Africa and was of the Fulvius gens, an ancient and politically influential clan, which was originally of plebeian status. His siblings were a younger Publius Septimius Geta and Septimia Octavilla. Severus's maternal cousin was Praetorian Guard and consul Gaius Fulvius Plautianus.
In 172, Severus was made a Senator by the then emperor Marcus Aurelius. In 187 he married secondly Julia Domna. In 190 Severus became consul, and in the following year received from the emperor Commodus (successor to Marcus Aurelius) the command of the legions in Pannonia.
On the murder of Pertinax by the troops in 193, they proclaimed Severus Emperor at Carnuntum, whereupon he hurried to Italy. The former emperor, Didius Julianus, was condemned to death by the Senate and killed, and Severus took possession of Rome without opposition.
The legions of Syria, however, had proclaimed Pescennius Niger emperor. At the same time, Severus felt it was reasonable to offer Clodius Albinus, the powerful governor of Britannia who had probably supported Didius against him, the rank of Caesar, which implied some claim to succession. With his rearguard safe, he moved to the East and crushed Niger's forces at the Battle of Issus. The following year was devoted to suppressing Mesopotamia and other Parthian vassals who had backed Niger. When afterwards Severus declared openly his son Caracalla as successor, Albinus was hailed emperor by his troops and moved to Gallia. Severus, after a short stay in Rome, moved northwards to meet him. On February 19, 197, in the Battle of Lugdunum, with an army of 100,000 men, mostly composed of Illyrian, Moesian and Dacian legions, Severus defeated and killed Clodius Albinus, securing his full control over the Empire.
Emperor
Severus was at heart a soldier, and sought glory through military exploits. In 197 he waged a brief and successful war against the Parthian Empire in retaliation for the support given to Pescennius Niger. The Parthian capital Ctesiphon was sacked by the legions, and the northern half of Mesopotamia was restored to Rome.
His relations with the Roman Senate were never good. He was unpopular with them from the outset, having seized power with the help of the military, and he returned the sentiment. Severus ordered the execution of dozens of Senators on charges of corruption and conspiracy against him, replacing them with his own favorites.
He also disbanded the Praetorian Guard and replaced it with one of his own, made up of 50,000 loyal soldiers mainly camped at Albanum, near Rome (also probably to grant the emperor a kind of centralized reserve). During his reign the number of legions was also increased from 25/30 to 33. He also increased the number of auxiliary corps (numerii), many of these troops coming from the Eastern borders. Additionally the annual wage for a soldier was raised from 300 to 500 denarii.
Although his actions turned Rome into a military dictatorship, he was popular with the citizens of Rome, having stamped out the rampant corruption of Commodus's reign. When he returned from his victory over the Parthians, he erected the Arch of Septimius Severus in Rome.
According to Cassius Dio, however, after 197 Severus fell heavily under the influence of his Praetorian Prefect, Gaius Fulvius Plautianus, who came to have almost total control of most branches of the imperial administration. Plautianus's daughter, Fulvia Plautilla, was married to Severus's son, Caracalla. Plautianus's excessive power came to an end in 205, when he was denounced by the Emperor's dying brother and killed. The two following praefecti, including the jurist Aemilius Papinianus, received however even larger powers.
Campaigns in Caledonia (Scotland)
Starting from 208 Severus undertook a number of military actions in Roman Britain, reconstructing Hadrian's Wall and campaigning in Scotland.
He reached the area of the Moray Firth in his last campaign in Caledonia, as was called Scotland by the Romans.. In 210 obtained a peace with the Picts that lasted practically until the final withdrawal of the Roman legions from Britain, before falling severely ill in Eboracum (York).
Death
He is famously said to have given the advice to his sons: "Be harmonious, enrich the soldiers, and scorn all other men" before he died at Eboracum on February 4, 211. Upon his death in 211, Severus was deified by the Senate and succeeded by his sons, Caracalla and Geta, who were advised by his wife Julia Domna. The stability Severus provided the Empire was soon gone under their reign.
Accomplishments and Record
Though his military expenditure was costly to the empire, Severus was the strong, able ruler that Rome needed at the time. He began a tradition of effective emperors elevated solely by the military. His policy of an expanded and better-rewarded army was criticized by his contemporary Dio Cassius and Herodianus: in particular, they pointed out the increasing burden (in the form of taxes and services) the civilian population had to bear to maintain the new army.
Severus was also distinguished for his buildings. Apart from the triumphal arch in the Roman Forum carrying his full name, he also built the Septizodium in Rome and enriched greatly his native city of Leptis Magna (including another triumphal arch on the occasion of his visit of 203).
Severus and Christianity
Christians were persecuted during the reign of Septimus Severus. Severus allowed the enforcement of policies already long-established, which meant that Roman authorities did not intentionally seek out Christians, but when people were accused of being Christians they could either curse Jesus and make an offering to Roman gods, or be executed. Furthermore, wishing to strengthen the peace by encouraging religious harmony through syncretism, Severus tried to limit the spread of the two quarrelsome groups who refused to yield to syncretism by outlawing conversion to Christianity or Judaism. Individual officials availed themselves of the laws to proceed with rigor against the Christians. Naturally the emperor, with his strict conception of law, did not hinder such partial persecution, which took place in Egypt and the Thebaid, as well as in Africa proconsularis and the East. Christian martyrs were numerous in Alexandria (cf. Clement of Alexandria, Stromata, ii. 20; Eusebius, Church History, V., xxvi., VI., i.). No less severe were the persecutions in Africa, which seem to have begun in 197 or 198 (cf. Tertullian's Ad martyres), and included the Christians known in the Roman martyrology as the martyrs of Madaura. Probably in 202 or 203 Felicitas and Perpetua suffered for their faith. Persecution again raged for a short time under the proconsul Scapula in 211, especially in Numidia and Mauritania. Later accounts of a Gallic persecution, especially at Lyon, are legendary. In general it may thus be said that the position of the Christians under Septimius Severus was the same as under the Antonines; but the law of this Emperor at least shows clearly that the rescript of Trajan had failed to execute its purpose.
---
Frequently Asked Questions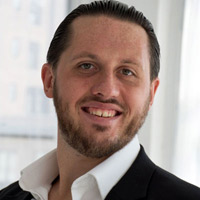 Mr. Ilya Zlobin, world-renowned expert numismatist, enthusiast, author and dealer in authentic ancient Greek, ancient Roman, ancient Byzantine, world coins & more.
Who am I dealing with?
You are dealing with Ilya Zlobin, ancient coin expert, enthusiast, author and dealer with an online store having a selection of over 15,000 items with great positive feedback from verified buyers and over 10 years experience dealing with over 57,000 ancient and world coins and artifacts. Ilya Zlobin is an independent individual who has a passion for coin collecting, research and understanding the importance of the historical context and significance all coins and objects represent. Most others are only concerned with selling you, Ilya Zlobin is most interested in educating you on the subject, and providing the largest selection, most professional presentation and service for the best long-term value for collectors worldwide creating returning patrons sharing in the passion of ancient and world coin collecting for a lifetime.
How long until my order is shipped?
Orders are shipped by the next business day (after receipt of payment) most of the time.
How will I know when the order was shipped?
After your order has shipped, you will be left positive feedback, and that date could be used as a basis of estimating an arrival date. Any tracking number would be found under your 'Purchase history' tab.

USPS First Class mail takes about 3-5 business days to arrive in the U.S. International shipping times cannot be estimated as they vary from country to country.

Standard international mail to many countries does not include a tracking number, and can also be slow sometimes. For a tracking number and signature confirmation, you may want to do Express Mail International Shipping, which costs more, however, is the fastest and most secure. Additionally you may be able to receive your order in as little as 3-5 business days using this method. For Express Mail International, it may be possible to place up to 10-15 items in one package (for the one shipping cost) as it is flat rate envelope, which may be the most cost-effective, secure and fastest way to receive items internationally. Send me a message about this and I can update your invoice should you want this method.

Getting your order to you, quickly and securely is a top priority and is taken seriously here. Great care is taken in packaging and mailing every item securely and quickly.

Please be aware, I cannot take responsibility for any postal service delivery delays, especially for international packages as it may happen in rare instances.
What is a certificate of authenticity and what guarantees do you give that the item is authentic?
Each of the items sold here, is provided with a Certificate of Authenticity, and a Lifetime Guarantee of Authenticity, issued by a world-renowned numismatic and antique expert that has identified over 57,000 ancient coins and has provided them with the same guarantee. You will be very happy with what you get with the COA; a professional presentation of the coin, with all of the relevant information and a picture of the coin you saw in the listing. Additionally, the coin is inside it's own protective coin flip (holder), with a 2x2 inch description of the coin matching the individual number on the COA.

On the free-market such a presentation alone, can be considered a $25-$50 value all in itself, and it comes standard with your purchases from me, FREE. With every purchase, you are leveraging my many years of experience to get a more complete context and understanding of the piece of history you are getting. Whether your goal is to collect or give the item as a gift, coins presented like this could be more prized and valued higher than items that were not given such care and attention to.

Buy a coin today and own a piece of history, guaranteed.
Is there a money back guarantee?
I offer a 30 day unconditional money back guarantee. I stand behind my coins and would be willing to exchange your order for either store credit towards other coins, or refund, minus shipping expenses, within 30 days from the receipt of your order. My goal is to have the returning customers for a lifetime, and I am so sure in my coins, their authenticity, numismatic value and beauty, I can offer such a guarantee.
Is there a number I can call you with questions about my order?
You can contact me directly via ask seller a question and request my telephone number, or go to my About Me Page to get my contact information only in regards to items purchased on .
When should I leave feedback?
Once you receive your order, please leave a positive feedback. Please don't leave any negative feedbacks, as it happens sometimes that people rush to leave feedback before letting sufficient time for their order to arrive. Also, if you sent an email, make sure to check for my reply in your messages before claiming that you didn't receive a response. The matter of fact is that any issues can be resolved, as reputation is most important to me. My goal is to provide superior products and quality of service.
How and where do I learn more about collecting ancient coins?
Visit the "Guide on How to Use My Store" for on an overview about using my store, with additional information and links to all other parts of my store which may include educational information on topics you are looking for.

You may also want to do a YouTube search for the term "ancient coin collecting" for educational videos on this topic.
Listing Information
| | |
| --- | --- |
| Listing Type | Gallery Listing |
| Listing ID# | 155226541 |
| Start Time | Wed 01 Mar 2017 18:04:58 (EST) |
| Close Time | Thu 12 Oct 2017 11:39:05 (EST) |
| Starting Bid | Fixed Price (no bidding) |
| Item Condition | See Descr. |
| Bids | 0 |
| Views | 1 |
| Dispatch Time | Next Day |
| Quantity | 1 |
| Location | United States |
| Auto Extend | No |
Purchase Activity
Username
Time & Date
Amount
No Bids as of Yet

This is a single item listing. If an auction is running, the winning bidder will be the highest bidder.