PLOTINA wife of Trajan 105AD Sardes Lydia Pelops Horse Ancient Roman Coin i59636
Listing Ended. This listing from
ZlobinCoins
[
+14714
] ended on Thu 12 Oct 2017 12:39:05 (EDT). If you were involved in this then you can
click here
to login and view it within My eBid. To see more items from this seller
click here
. Public bidding/purchase history
can be seen below
.
Condition : See Descr.
Dispatch : Next Day
Quantity : 1 items
Barcode : None
Start : Wed 01 Mar 2017 19:05:06 (EDT)
Close : Thu 12 Oct 2017 12:39:05 (EDT)
Remain :

Listing Closed


Domestic Shipping to
United States

for
1
item(s)
edit
Not Known = $4.50
Add a video to your auctions, just type in the YouTube video id when listing on eBid.
Seller's Description
Item: i59636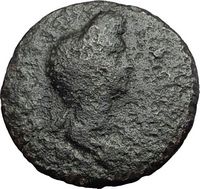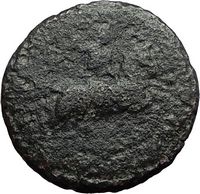 Authentic Ancient Coin of:
Plotina - Roman Empress: 105-122 A.D. - wife of Trajan
Bronze 19mm (4.19 grams) of Sardes in Lydia
Reference: RPC III 2397; SNG München 518.
ΠΛΩTЄINA CЄBACTH, Draped bust right.
CAPΔIANΩN, Pelops riding horse right, brandishing spear.
You are bidding on the exact item pictured, provided with a Certificate of Authenticity and Lifetime Guarantee of Authenticity.
---
In Greek mythology, Pelops (Greek: Πέλοψ), was king of Pisa in the Peloponnesus. His father, Tantalus, was the founder of the House of Atreus through Pelops's son of that name.
He was venerated at Olympia, where his cult developed into the founding myth of the Olympic Games, the most important expression of unity, not only for the Peloponnesus, "island of Pelops", but for all Hellenes. At the sanctuary at Olympia, chthonic night-time libations were offered each time to "dark-faced" Pelops in his sacrificial pit (bothros) before they were offered in the following daylight to the sky-god Zeus (Burkert 1983:96).
---
Sardis or Sardes was an ancient city at the location of modern Sart (Sartmahmut before 19 October 2005) in Turkey's Manisa Province. Sardis was the capital of the ancient kingdom of Lydia, one of the important cities of the Persian Empire, the seat of a proconsul under the Roman Empire, and the metropolis of the province Lydia in later Roman and Byzantine times. As one of the Seven churches of Asia, it was addressed by the author John of the Book of Revelation in the Holy Bible in terms which seem to imply that its population was notoriously soft and fainthearted. Its importance was due, first to its military strength, secondly to its situation on an important highway leading from the interior to the Aegean coast, and thirdly to its commanding the wide and fertile plain of the Hermus.
---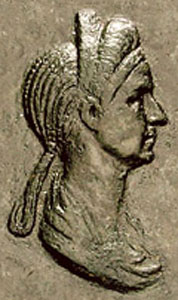 Plotina - Augusta: 105-122 A.D.
Wife of Trajan
Aunt of Matidia
Sister-in-Law of Marciana
'Pompeia Plotina Claudia Phoebe Piso or Potius piolet (d. 121/122) was a Roman Empress and wife of Roman Emperor Trajan. She was renowned for her interest in philosophy, and her virtue, dignity and simplicity. She was particularly devoted to the Epicurean philosophical school in Athens, Greece. Through her influence, she provided Romans with fairer taxation, improved education, assisted the poor and created tolerance in Roman society.
Plotina was born and was raised in Tejada la Vieja (Escacena del Campo), Spain, during the reign of Roman Emperor Nero (reigned 54–68). She was the daughter of Lucius Pompeius and Plotia, who had extensive political, family and friendship connections. Trajan married her before his accession. Although they had a happy marriage, they had no known children. In 100 Trajan awarded her with title of Augusta, but she did not accept the title until 105. Plotina did not appear on the coinage until 112.
Trajan and Plotina became the guardians of the future Roman Emperor Hadrian. Hadrian was about age 10 or 11 when he lost his father, who was a first cousin to Trajan (Trajan's father and Hadrian's paternal grandmother were brother and sister). Plotina was fond of Hadrian and strongly encouraged his adoption by the dying Trajan. The adoption occurred at Selinunte in Cilicia, in August 117. When Plotina died she was deified. Hadrian built a temple in her honor at Nîmes.
---
Trajan - Roman Emperor : 98-117 A.D.
Caesar: 97 A.D. (under Nerva) | Augustus: 98-117 A.D.
| Adopted son of Nerva | Son of Trajan Pater | Husband of Plotina | Brother of Marciana | Uncle of Matidia | Grand-uncle of Sabina |
Marcus Ulpius Nerva Traianus, commonly known as Trajan (18 September, 53 – 8 August, 117), was a Roman Emperor who reigned from AD 98 until his death in AD 117. Born Marcus Ulpius Traianus into a non-patrician family in the Hispania Baetica province (modern day Spain), Trajan rose to prominence during the reign of emperor Domitian, serving as a general in the Roman army along the German frontier, and successfully crushing the revolt of Antonius Saturninus in 89. On September 18, 96, Domitian was succeeded by Marcus Cocceius Nerva, an old and childless senator who proved to be unpopular with the army. After a brief and tumultuous year in power, a revolt by members of the Praetorian Guard compelled him to adopt the more popular Trajan as his heir and successor. Nerva died on January 27, 98, and was succeeded by his adopted son without incident.
As a civilian administrator, Trajan is best known for his extensive public building program, which reshaped the city of Rome and left multiple enduring landmarks such as Trajan's Forum, Trajan's Market and Trajan's Column. It was as a military commander however that Trajan celebrated his greatest triumphs. In 101, he launched a punitive expedition into the kingdom of Dacia against king Decebalus, defeating the Dacian army near Tapae in 102, and finally conquering Dacia completely in 106. In 107, Trajan pushed further east and annexed the Nabataean kingdom, establishing the province of Arabia Petraea. After a period of relative peace within the Empire, he launched his final campaign in 113 against Parthia, advancing as far as the city of Susa in 116, and expanding the Roman Empire to its greatest extent. During this campaign Trajan was struck by illness, and late in 117, while sailing back to Rome, he died of a stroke on August 9, in the city of Selinus. He was deified by the Senate and his ashes were laid to rest under Trajan's Column. He was succeeded by his adopted son (not having a biological heir) Publius Aelius Hadrianus—commonly known as Hadrian.
As an emperor, Trajan's reputation has endured - he is one of the few rulers whose reputation has survived the scrutiny of nineteen centuries of history. Every new emperor after him was honoured by the Senate with the prayer felicior Augusto, melior Traiano, meaning "may he be luckier than Augustus and better than Trajan". Among medieval Christian theologians, Trajan was considered a virtuous pagan, while the 18th century historian Edward Gibbon popularized the notion of the Five Good Emperors, of which Trajan was the second.
---
Frequently Asked Questions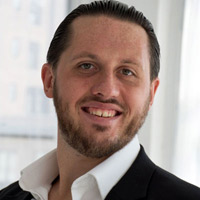 Mr. Ilya Zlobin, world-renowned expert numismatist, enthusiast, author and dealer in authentic ancient Greek, ancient Roman, ancient Byzantine, world coins & more.
Who am I dealing with?
You are dealing with Ilya Zlobin, ancient coin expert, enthusiast, author and dealer with an online store having a selection of over 15,000 items with great positive feedback from verified buyers and over 10 years experience dealing with over 57,000 ancient and world coins and artifacts. Ilya Zlobin is an independent individual who has a passion for coin collecting, research and understanding the importance of the historical context and significance all coins and objects represent. Most others are only concerned with selling you, Ilya Zlobin is most interested in educating you on the subject, and providing the largest selection, most professional presentation and service for the best long-term value for collectors worldwide creating returning patrons sharing in the passion of ancient and world coin collecting for a lifetime.
How long until my order is shipped?
Orders are shipped by the next business day (after receipt of payment) most of the time.
How will I know when the order was shipped?
After your order has shipped, you will be left positive feedback, and that date could be used as a basis of estimating an arrival date. Any tracking number would be found under your 'Purchase history' tab.

USPS First Class mail takes about 3-5 business days to arrive in the U.S. International shipping times cannot be estimated as they vary from country to country.

Standard international mail to many countries does not include a tracking number, and can also be slow sometimes. For a tracking number and signature confirmation, you may want to do Express Mail International Shipping, which costs more, however, is the fastest and most secure. Additionally you may be able to receive your order in as little as 3-5 business days using this method. For Express Mail International, it may be possible to place up to 10-15 items in one package (for the one shipping cost) as it is flat rate envelope, which may be the most cost-effective, secure and fastest way to receive items internationally. Send me a message about this and I can update your invoice should you want this method.

Getting your order to you, quickly and securely is a top priority and is taken seriously here. Great care is taken in packaging and mailing every item securely and quickly.

Please be aware, I cannot take responsibility for any postal service delivery delays, especially for international packages as it may happen in rare instances.
What is a certificate of authenticity and what guarantees do you give that the item is authentic?
Each of the items sold here, is provided with a Certificate of Authenticity, and a Lifetime Guarantee of Authenticity, issued by a world-renowned numismatic and antique expert that has identified over 57,000 ancient coins and has provided them with the same guarantee. You will be very happy with what you get with the COA; a professional presentation of the coin, with all of the relevant information and a picture of the coin you saw in the listing. Additionally, the coin is inside it's own protective coin flip (holder), with a 2x2 inch description of the coin matching the individual number on the COA.

On the free-market such a presentation alone, can be considered a $25-$50 value all in itself, and it comes standard with your purchases from me, FREE. With every purchase, you are leveraging my many years of experience to get a more complete context and understanding of the piece of history you are getting. Whether your goal is to collect or give the item as a gift, coins presented like this could be more prized and valued higher than items that were not given such care and attention to.

Buy a coin today and own a piece of history, guaranteed.
Is there a money back guarantee?
I offer a 30 day unconditional money back guarantee. I stand behind my coins and would be willing to exchange your order for either store credit towards other coins, or refund, minus shipping expenses, within 30 days from the receipt of your order. My goal is to have the returning customers for a lifetime, and I am so sure in my coins, their authenticity, numismatic value and beauty, I can offer such a guarantee.
Is there a number I can call you with questions about my order?
You can contact me directly via ask seller a question and request my telephone number, or go to my About Me Page to get my contact information only in regards to items purchased on .
When should I leave feedback?
Once you receive your order, please leave a positive feedback. Please don't leave any negative feedbacks, as it happens sometimes that people rush to leave feedback before letting sufficient time for their order to arrive. Also, if you sent an email, make sure to check for my reply in your messages before claiming that you didn't receive a response. The matter of fact is that any issues can be resolved, as reputation is most important to me. My goal is to provide superior products and quality of service.
How and where do I learn more about collecting ancient coins?
Visit the "Guide on How to Use My Store" for on an overview about using my store, with additional information and links to all other parts of my store which may include educational information on topics you are looking for.

You may also want to do a YouTube search for the term "ancient coin collecting" for educational videos on this topic.
Listing Information
| | |
| --- | --- |
| Listing Type | Gallery Listing |
| Listing ID# | 155226545 |
| Start Time | Wed 01 Mar 2017 19:05:06 (EDT) |
| Close Time | Thu 12 Oct 2017 12:39:05 (EDT) |
| Starting Bid | Fixed Price (no bidding) |
| Item Condition | See Descr. |
| Bids | 0 |
| Views | 111 |
| Dispatch Time | Next Day |
| Quantity | 1 |
| Location | United States |
| Auto Extend | No |
Purchase Activity
Username
Time & Date
Amount
No Bids as of Yet

This is a single item listing. If an auction is running, the winning bidder will be the highest bidder.