KEBREN in TROAS 420BC Ram Heads Monogram Authentic Ancient Greek Coin i59646
Listing Ended. This listing from
ZlobinCoins
[
+14714
] ended on Thu 12 Oct 2017 12:39:05 (EDT). If you were involved in this then you can
click here
to login and view it within My eBid. To see more items from this seller
click here
. Public bidding/purchase history
can be seen below
.
Condition : See Descr.
Dispatch : Next Day
Quantity : 1 items
Barcode : None
Start : Wed 01 Mar 2017 19:05:18 (EDT)
Close : Thu 12 Oct 2017 12:39:05 (EDT)
Remain :

Listing Closed


Domestic Shipping to
United States

for
1
item(s)
edit
Not Known = $4.50
Add a video to your auctions, just type in the YouTube video id when listing on eBid.
Seller's Description
Item: i59646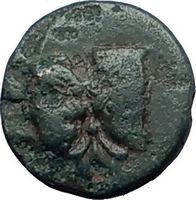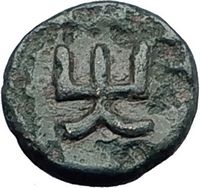 Authentic Ancient Coin of:
Greek city of Kebren in Troas
Bronze 9mm (0.95 grams) Struck circa 420-412 B.C.
Reference: SNG München 283; SNG Copenhagen 260; SNG von Aulock -
Confronted ram's heads; floral ornament between.
KE monogram.
An inland town, between Ilion and Antandros, Kebren was abandoned at the end of the fourth century when its population was removed to Alexandria Troas.
You are bidding on the exact item pictured, provided with a Certificate of Authenticity and Lifetime Guarantee of Authenticity.
---
Cebrene (Ancient Greek: Κεβρήνη), also spelled Cebren (Ancient Greek: Κεβρήν), was a ancient Greek city in the middle Skamander valley in the Troad region of Anatolia. According to some scholars, the city's name was changed to Antiocheia in the Troad (Ancient Greek: Ἀντιόχεια τῆς Τρωάδος) for a period during the 3rd century BCE (see below). Its archaeological remains have been located on Çal Dağ in the forested foothills of Mount Ida (modern Kaz Dağı), approximately 7 km to the south of the course of the Skamander. The site was first identified by the English amateur archaeologist Frank Calvert in 1860.
History
Foundation
The earliest Greek archaeological remains found at Cebren date to the mid-7th and early 6th century BCE and were found together with indigenous pottery, suggesting that to begin with the city was a mixed Greco-Anatolian community. Writing in the early 4th century BCE, Xenophon implies that the population of Cebren ca. 400 BCE still consisted of both Greek and Anatolian elements, indicating that the two ethnic groups co-existed long after the period of Greek colonization. Sources dating to the mid-4th century BCE considered the city an Aeolian Greek foundation, and the historian Ephorus of Cyme claimed that its founders were in fact from his own city, although this statement needs to be treated with some caution, since Ephorus was notorious in antiquity for exaggerating his hometown's importance. While we cannot ascertain the truth of Ephorus' statement, we can be sure that the early settlers were Aeolians, since a grave inscription for a citizen of Kebren written in the Aeolic dialect has been found at nearby Gergis.
Classical Period
In the 5th century BCE Cebren was a member of the Delian League and is listed in the Hellespontine district paying a tribute to Athens of 3 Talents from 454/3 down to 425/4, except in 450/49 when it only paid 8,700 drachmas. Following the defeat of Athens at the end of the Peloponnesian War in 404 BCE, Cebren came under the control of Zenis, the tyrant of Dardanus, and his wife Mania who together controlled the Troad on behalf of the Persian satrap Pharnabazos. Cebren was captured by the Spartan commander Dercylidas in 399 BCE, but soon after returned to Persian control. In 360/59, the Greek mercenary commander Charidemus briefly captured the city before being repelled by the Persian satrap Artabazos. At some point in the 4th century BCE Cebren produced coinage depicting a satrap's head as the obverse type, indicating the city's close relationship with its Persian overlords. Cebren ceased to exist as an independent city ca. 310 when Antigonus I Monophthalmus founded Antigonia Troas (after 301 BCE renamed Alexandria Troas) and included Cebren in the synoecism.
Antiocheia in the Troad
A rare series of bronze coins display the obverse and reverse types of Cebren (ram's head/head of Apollo), but bear the legend Ἀντιοχέων (Antiocheōn, '(coin of the) Antiocheis'). On the basis of these coins it has been argued, most notably by the French epigrapher Louis Robert, that Cebren was refounded by Antiochus I Soter as Antiocheia in the Troad following Antiochus' victory over Lysimachus at the Battle of Corupedium in 281 BCE, after which most of western Asia Minor came under his control. Moreover, Robert noted that some of these coins bore the letters B and K and included a club beside the ram's head: since the club is the typical symbol of the coinage of Birytis, an unlocated city in the Troad, Robert argued that these letters referred to B(irytis) and K(ebren) and were evidence of a synoecism or sympoliteia between the two communities which had produced the new foundation of Antiocheia in the Troad. Robert's arguments have been repeatedly criticized by the archaeologist John Cook, who could discern no archaeological or numismatic evidence for occupation in the Hellenistic period at the site of Çal Dağ. It should be noted, however, that Cook based these claims on only two days of surface survey at Çal Dağ, and as such definitive answers regarding the settlement history of the site in the 3rd century BCE will have to await a full excavation.
---
Frequently Asked Questions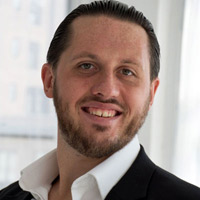 Mr. Ilya Zlobin, world-renowned expert numismatist, enthusiast, author and dealer in authentic ancient Greek, ancient Roman, ancient Byzantine, world coins & more.
Who am I dealing with?
You are dealing with Ilya Zlobin, ancient coin expert, enthusiast, author and dealer with an online store having a selection of over 15,000 items with great positive feedback from verified buyers and over 10 years experience dealing with over 57,000 ancient and world coins and artifacts. Ilya Zlobin is an independent individual who has a passion for coin collecting, research and understanding the importance of the historical context and significance all coins and objects represent. Most others are only concerned with selling you, Ilya Zlobin is most interested in educating you on the subject, and providing the largest selection, most professional presentation and service for the best long-term value for collectors worldwide creating returning patrons sharing in the passion of ancient and world coin collecting for a lifetime.
How long until my order is shipped?
Orders are shipped by the next business day (after receipt of payment) most of the time.
How will I know when the order was shipped?
After your order has shipped, you will be left positive feedback, and that date could be used as a basis of estimating an arrival date. Any tracking number would be found under your 'Purchase history' tab.

USPS First Class mail takes about 3-5 business days to arrive in the U.S. International shipping times cannot be estimated as they vary from country to country.

Standard international mail to many countries does not include a tracking number, and can also be slow sometimes. For a tracking number and signature confirmation, you may want to do Express Mail International Shipping, which costs more, however, is the fastest and most secure. Additionally you may be able to receive your order in as little as 3-5 business days using this method. For Express Mail International, it may be possible to place up to 10-15 items in one package (for the one shipping cost) as it is flat rate envelope, which may be the most cost-effective, secure and fastest way to receive items internationally. Send me a message about this and I can update your invoice should you want this method.

Getting your order to you, quickly and securely is a top priority and is taken seriously here. Great care is taken in packaging and mailing every item securely and quickly.

Please be aware, I cannot take responsibility for any postal service delivery delays, especially for international packages as it may happen in rare instances.
What is a certificate of authenticity and what guarantees do you give that the item is authentic?
Each of the items sold here, is provided with a Certificate of Authenticity, and a Lifetime Guarantee of Authenticity, issued by a world-renowned numismatic and antique expert that has identified over 57,000 ancient coins and has provided them with the same guarantee. You will be very happy with what you get with the COA; a professional presentation of the coin, with all of the relevant information and a picture of the coin you saw in the listing. Additionally, the coin is inside it's own protective coin flip (holder), with a 2x2 inch description of the coin matching the individual number on the COA.

On the free-market such a presentation alone, can be considered a $25-$50 value all in itself, and it comes standard with your purchases from me, FREE. With every purchase, you are leveraging my many years of experience to get a more complete context and understanding of the piece of history you are getting. Whether your goal is to collect or give the item as a gift, coins presented like this could be more prized and valued higher than items that were not given such care and attention to.

Buy a coin today and own a piece of history, guaranteed.
Is there a money back guarantee?
I offer a 30 day unconditional money back guarantee. I stand behind my coins and would be willing to exchange your order for either store credit towards other coins, or refund, minus shipping expenses, within 30 days from the receipt of your order. My goal is to have the returning customers for a lifetime, and I am so sure in my coins, their authenticity, numismatic value and beauty, I can offer such a guarantee.
Is there a number I can call you with questions about my order?
You can contact me directly via ask seller a question and request my telephone number, or go to my About Me Page to get my contact information only in regards to items purchased on .
When should I leave feedback?
Once you receive your order, please leave a positive feedback. Please don't leave any negative feedbacks, as it happens sometimes that people rush to leave feedback before letting sufficient time for their order to arrive. Also, if you sent an email, make sure to check for my reply in your messages before claiming that you didn't receive a response. The matter of fact is that any issues can be resolved, as reputation is most important to me. My goal is to provide superior products and quality of service.
How and where do I learn more about collecting ancient coins?
Visit the "Guide on How to Use My Store" for on an overview about using my store, with additional information and links to all other parts of my store which may include educational information on topics you are looking for.

You may also want to do a YouTube search for the term "ancient coin collecting" for educational videos on this topic.
Listing Information
| | |
| --- | --- |
| Listing Type | Gallery Listing |
| Listing ID# | 155226551 |
| Start Time | Wed 01 Mar 2017 19:05:18 (EDT) |
| Close Time | Thu 12 Oct 2017 12:39:05 (EDT) |
| Starting Bid | Fixed Price (no bidding) |
| Item Condition | See Descr. |
| Bids | 0 |
| Views | 127 |
| Dispatch Time | Next Day |
| Quantity | 1 |
| Location | United States |
| Auto Extend | No |
Purchase Activity
Username
Time & Date
Amount
No Bids as of Yet

This is a single item listing. If an auction is running, the winning bidder will be the highest bidder.