China Taiwan 1971 60th National Day MNH
Condition : New
Dispatch : Not given

Barcode

:

None

Brand : None
Quantity : 10 items


(still available: 9)

Views : 1092
Location : United States
Seller :

tongs1128

(+635)
Start : Mon 19 Apr 2010 13:20:21 (EDT)
Close : Run Until Sold
Remain :

Run Until Sold

Checks/Cheques, Money/Postal Orders
Domestic Shipping to
United States

for
1
item(s)
edit
USPS First Class = $0.75
Seller's Description
1971 60th National day stamps in good condition, never hinge. Scott# 1734-1737. 100% satisfaction guaranteed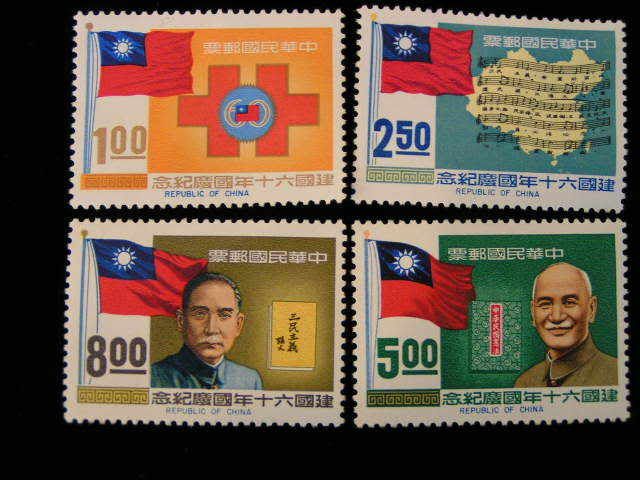 Listing Information
| | |
| --- | --- |
| Listing Type | Gallery Listing |
| Listing ID# | 27113073 |
| Start Time | Mon 19 Apr 2010 13:20:21 (EDT) |
| Close Time | Run Until Sold |
| Starting Bid | Fixed Price (no bidding) |
| Item Condition | New |
| Bids | 1 |
| Views | 1092 |
| Dispatch Time | Not given |
| Quantity | 10 |
| Location | United States |
| Auto Extend | No |
Purchase Activity
Winning Bids
Bidder Username
Bid Time & Date
Bid
Qty
No Bids as of Yet
Won using BuyNow
Bidder Details
BuyNow Date & Time
Price
Qty
mldshg [+12]
Fri 04 Dec 2015 10:13:38 (EDT)
$1.95
1

Important :Multiple items available. See more info links above in the "Bid" or "BuyNow" forms.
Questions and Answers
Question From nycbidder [-22]
Wed 12 Oct 2011 22:48:59 (EDT)
Hello, I noticed that you have this listing on ebid for more than a year. If you can give better price, I will buy, maybe more than one set. Please let me know. Thanks!
Not Yet Answered
Question From Hanna1986 [+1]
Fri 02 Nov 2012 15:17:19 (EDT)
Hi. I want to buy several stamps from you but should I pay for the transport fee everytime? Because I would like you to send it to me at once.
Answer From tongs1128 [+635]


Fri 02 Nov 2012 16:29:49 (EDT)

Hi, we will combine the shipping for you, thanks for the business