100BC Woman FERTILITY AMULET Pendant Charm VAGINA SHAPE Roman Artifact i56178
Listing Ended. This listing from
ZlobinCoins
[
+14714
] ended on Thu 12 Oct 2017 11:38:19 (EST). If you were involved in this then you can
click here
to login and view it within My eBid. To see more items from this seller
click here
. Public bidding/purchase history
can be seen below
.
Condition : See Descr.
Dispatch : Next Day
Barcode :

None

Brand : Ilya Zlobin
Start : Wed 01 Mar 2017 16:54:50 (EST)
Close : Thu 12 Oct 2017 11:38:19 (EST)
Remain :

Listing Closed


Domestic Shipping to
United States

for
1
item(s)
edit
Not Known = $4.50
Add a video to your auctions, just type in the YouTube video id when listing on eBid.
Seller's Description
Item: i56178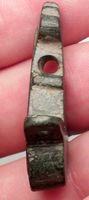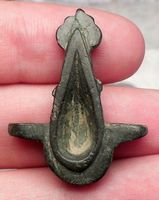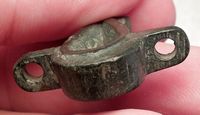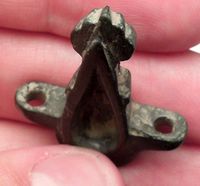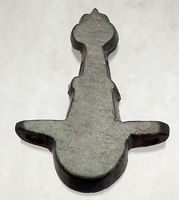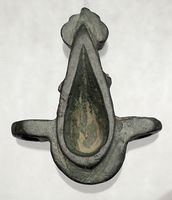 Authentic Ancient
Bronze Roman Vagina Shaped Fertility Amulet Pendant Talisman from circa 100 B.C. - 200 A.D.
Bronze measuring 3.8 x 3.0 x 0.5 centimeters and weighs 19.56 grams
The ancient Roman woman who wanted to be pregnant, would wear such an amulet to help her achieve this. This amulet was a symbol of fruitfulness and fertility. There are three loops around the pendant which allowed it to be worn around the neck on a string or chain. There were many fertility gods and goddesses to which the Romans prayed. This was an important subject, especially in ancient times and symbols of fertility and plenty were often used. Take as an example the prevalent use of Venus in statue for, goddess of fertility, sex, love and beauty in Roman statuary and mosaics, and even coins. Having done further research looking through various literature on the subject, I have not yet come across a published example in my extensive library. This makes this type of fertility charm of the extremely rare variety.
Provenance: From private collection in the United States of America.
Ownership History: From private collection in the United States, bought in private sale in the United States of America.
You are bidding on the exact item pictured, provided with a Certificate of Authenticity and Lifetime Guarantee of Authenticity.
Click here to see all Roman FERTILITY CHARMS available for sale
---
A talisman is an object which is believed to contain certain magical or sacramental properties which would provide good luck for the possessor or possibly offer protection from evil or harm.
According to the Hermetic Order of the Golden Dawn, a magical order active in the United Kingdom during the late-19th and early-20th centuries, a talisman is "a magical figure charged with the force which it is intended to represent. In the construction of a talisman, care should be taken to make it, as far as possible, so to represent the universal forces that it should be in exact harmony with those you wish to attract, and the more exact the symbolism, the easier it is to attract the force."
---
An amulet is an object whose most important characteristic is the power ascribed to it to protect its owner from danger or harm. Amulets are different from talismans as a talisman is believed to bring luck or some other benefit, though it can offer protection as well. Amulets are often confused with pendants—charms that hang from necklaces—any given pendant may indeed be an amulet, but so may any other charm which purports to protect its owner from danger.
Potential amulets include gems, especially engraved gems, statues, coins, drawings, pendants, rings, plants, and animals; even words in the form of a magical spell or incantation to repel evil or bad luck.
The word "amulet" comes from the Latin amulētum; the earliest extant use of the term is in Pliny's Natural History, meaning "an object that protects a person from trouble".
---
Fertility Gods and Goddesses of Roman mythology
Bona Dea, goddess of fertility, healing, virginity, and women
Candelifera, goddess of childbirth
Carmenta, goddess of childbirth and prophecy
Ceres, goddess of agriculture, grain crops, fertility and motherly relationships; equated with the Greek goddess Demeter
Diana, goddess of the hunt, wilderness, the moon and childbirth; equivalent to the Greek Artemis
*Domidicus, the god who leads the bride home
*Domitius, the god who installs the bride
Fascinus, embodiment of the divine phallus
Fecunditas, goddess of fertility
Feronia, goddess associated with fertility and abundance
Flora, goddess of flowers and spring
Inuus, god of sexual intercourse
*Jugatinus, the god who joins the pair in marriage
Juno, goddess of marriage and childbirth; equivalent to the Greek goddess Hera
Liber, god of viniculture, wine and male fertility, equivalent to Greek Dionysus; in archaic Lavinium, a phallic deity
Libera, goddess of female fertility and the earth
Lucina, goddess of childbirth
Mars, god initially associated with fertility and vegetation, but later associated with warfare and the Greek god Ares
*Manturna, the goddess who kept the bride at home
Mutunus Tutunus, phallic marriage deity associated with the Greek god Priapus
Ops, fertility and earth-goddess
Partula, goddess of childbirth, who determined the duration of each pregnancy
*Pertuda, goddess who enables penetration
Picumnus, god of fertility, agriculture, matrimony, infants and children
*Prema, goddess who holds the bride down on the bed
Robigus, fertility god who protects crops against disease
*Subigus, the god who subdues the bride to the husband's will
Terra, earth goddess associated with marriage, motherhood, pregnant women, and pregnant animals; equivalent to the Greek Gaia
Venus, goddess of love, beauty and fertility, equivalent to the Greek goddess Aphrodite
*Virginiensis, the goddess who unties the girdle of the bride
* These 8 gods/goddesses consummate marriage and some of them are listed in the Indigitamenta
---
Frequently Asked Questions
How long until my order is shipped?
Depending on the volume of sales, it may take up to 5 business days for shipment of your order after the receipt of payment.
How will I know when the order was shipped?
After your order has shipped, you will be left positive feedback, and that date should be used as a basis of estimating an arrival date.
After you shipped the order, how long will the mail take?
USPS First Class mail takes about 3-5 business days to arrive in the U.S., international shipping times cannot be estimated as they vary from country to country. I am not responsible for any USPS delivery delays, especially for an international package.
What is a certificate of authenticity and what guarantees do you give that the item is authentic?
Each of the items sold here, is provided with a Certificate of Authenticity, and a Lifetime Guarantee of Authenticity, issued by a world-renowned numismatic and antique expert that has identified over 10000 ancient coins and has provided them with the same guarantee. You will be quite happy with what you get with the COA; a professional presentation of the coin, with all of the relevant information and a picture of the coin you saw in the listing.
Compared to other certification companies, the certificate of authenticity is a $25-50 value. So buy a coin today and own a piece of history, guaranteed.
Is there a money back guarantee?
I offer a 30 day unconditional money back guarantee. I stand behind my coins and would be willing to exchange your order for either store credit towards other coins, or refund, minus shipping expenses, within 30 days from the receipt of your order. My goal is to have the returning customers for a lifetime, and I am so sure in my coins, their authenticity, numismatic value and beauty, I can offer such a guarantee.
Is there a number I can call you with questions about my order?
You can contact me directly via ask seller a question and request my telephone number, or go to my About Me Page to get my contact information only in regards to items purchased on .
When should I leave feedback?
Once you receive your order, please leave a positive. Please don't leave any negative feedbacks, as it happens many times that people rush to leave feedback before letting sufficient time for the order to arrive. Also, if you sent an email, make sure to check for my reply in your messages before claiming that you didn't receive a response. The matter of fact is that any issues can be resolved, as reputation is most important to me. My goal is to provide superior products and quality of service.
Listing Information
| | |
| --- | --- |
| Listing Type | Gallery Listing |
| Listing ID# | 155224135 |
| Start Time | Wed 01 Mar 2017 16:54:50 (EST) |
| Close Time | Thu 12 Oct 2017 11:38:19 (EST) |
| Starting Bid | Fixed Price (no bidding) |
| Item Condition | See Descr. |
| Bids | 0 |
| Views | 1 |
| Dispatch Time | Next Day |
| Quantity | 1 |
| Location | United States |
| Auto Extend | No |
Purchase Activity
Username
Time & Date
Amount
No Bids as of Yet

This is a single item listing. If an auction is running, the winning bidder will be the highest bidder.