Vintage 1970 Hand Made Crochet Granny Square Blanket Throw Size 74" X 62 "
Condition : Used
Dispatch : Not given
Barcode :

None

Brand : Hand Made Hand Crochet
Start : Sun 14 Jan 2018 15:48:10 (EST)
Close : Mon 22 Jan 2018 15:48:10 (EST)
Remain :

Listing Closed


Checks/Cheques, Money/Postal Orders
International Shipping to United States

for
1
item(s)
edit
Not Known = See Description
Seller's Description
Vintage 1970 Hand Crochet Granny Square Blanket Size 74 X 62" Approx
Vintage 1970 Hand Crochet Granny Square Blanket 74 X 62" Approx
Vintage 1970 Hand Crochet Granny Square Blanket Size 74" X 64" The Blanket as been Hand crocheted Exact age unknown Fabric Yarn wool?
The blanket as been made up of numerous granny squares in shades of pinks, red greens blue yellow purples yellow cream etc
Various contrasting borders to all the edges.
The blanket is in Very Excellent condition but does have some washing thickness to the wool
Good Luck.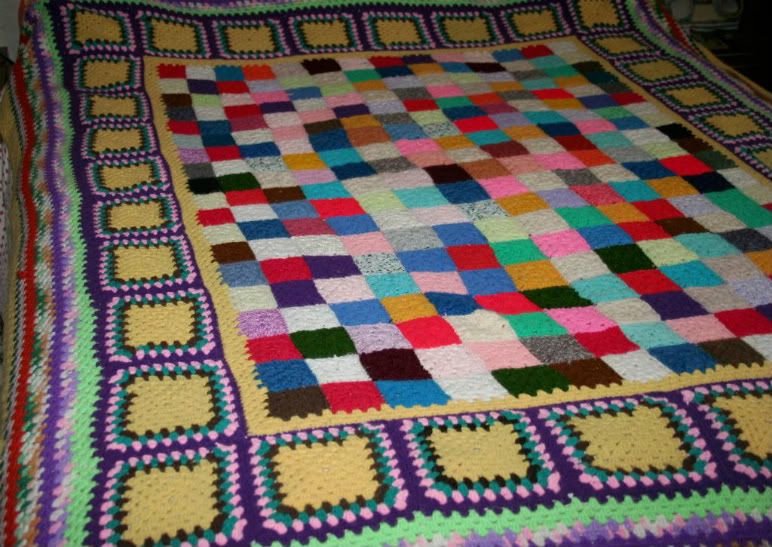 NOTE SORRY I WILL ONLY ACCEPT PAYPAL FROM INTERNATIONAL BUYERS ON THIS ITEM....
PAYMENT TO BE MADE WITHIN 5 DAYS OF ITEM PURCHASE
I WILL POST WORLD WIDE.
POSTAGE COSTS STATED ARE FOR WITHIN THE UK ONLY
INTERNATIONAL BUYERS PLEASE AWAIT AN INVOICE.
PLEASE EMAIL FOR POSTAGE COSTS,
IF NO POSTAGE COSTS ARE SHOWN IN THE PAYMENT DETAILS
ITEM POSTED ON CLEARANCE OF PAYMENT ...
I POST EVERY DAY WHEN POSSIBLE ...
PLEASE READ ALL PAYMENT DETAILS CAREFULLY TO ENSURE A PLEASUREABLE SALE.
I WILL ONLY ACCEPT A RETURN WITH MY PRIOR AGREEMENT IF I HAVE GROSSLY MISREPRESENTED AN ITEM.
FEEDBACK
Your business is important to us. Upon receipt of your item, please check it carefully and notify us immediately if there are any problems. If you are happy with your goods and our service we would be grateful for positive feedback.
tkauctionworldwide Vintage Clothing Store Shop
tkauctionworldwide Designer Clothing Accessories
TK Auction Worldwide Antique Vintage Bedding Linen
TK Auction Worldwide Crafts
Register here to join ebid net http://uk.ebid.net/buddy/835100

Trina Karen Mille Designer Clothes and Accessories
Trina Karen Mille Vintage Clothing and Accessories
Trina Karen Mille Antiques and Collectables
Trina Karen Mille Book Store
Listing Information
| | |
| --- | --- |
| Listing Type | Gallery Listing |
| Listing ID# | 164724982 |
| Start Time | Sun 14 Jan 2018 15:48:10 (EST) |
| Close Time | Mon 22 Jan 2018 15:48:10 (EST) |
| Starting Bid | £1.00 ($1.33) |
| Item Condition | Used |
| Bids | 0 |
| Views | 4 |
| Dispatch Time | Not given |
| Quantity | 1 |
| Location | United Kingdom |
| Auto Extend | No |
Returns Policy
Returns Accepted
Purchase Activity
Username
Time & Date
Amount
No Bids as of Yet

This is a single item listing. If an auction is running, the winning bidder will be the highest bidder.