THEODOSIUS II 404AD Christian CROSS Genuine Authentic Ancient Roman Coin i59664
Listing Ended. This listing from
ZlobinCoins
[
+14714
] ended on Thu 12 Oct 2017 11:39:06 (EST). If you were involved in this then you can
click here
to login and view it within My eBid. To see more items from this seller
click here
. Public bidding/purchase history
can be seen below
.
Condition : See Descr.
Dispatch : Next Day
Barcode :

None

Brand : Ilya Zlobin
Start : Wed 01 Mar 2017 18:05:48 (EST)
Close : Thu 12 Oct 2017 11:39:06 (EST)
Remain :

Listing Closed


Domestic Shipping to
United States

for
1
item(s)
edit
Not Known = $4.50
Add a video to your auctions, just type in the YouTube video id when listing on eBid.
Seller's Description
Item: i59664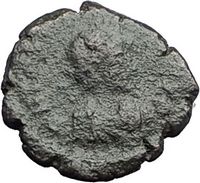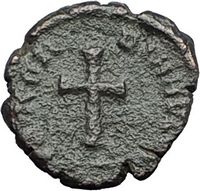 Authentic Ancient Coin of:
Theodosius II - Roman Emperor: 408-450 A.D.
Bronze AE4 10mm (0.93 grams) Alexandria mint, struck 404-406 A.D.
Reference: RIC 122 (X, Arcadius), LRBC 2922
D N THEODOSIVS P F AVG, Pearl-diademed, draped and cuirassed bust right.
CONCORDIA AVG G around cross; ALE in exergue.
You are bidding on the exact item pictured, provided with a Certificate of Authenticity and Lifetime Guarantee of Authenticity.
---
The Christian Cross, seen as a representation of the instrument of the crucifixion of Jesus, is the best-known symbol of Christianity. It is related to the crucifix (a cross that includes a usually three-dimensional representation of Jesus' body) and to the more general family of cross symbols. The basic forms of the cross are the Latin cross (✝) and the Greek cross (✚), with numerous variants used in heraldry and in various confessional contexts.
Christian cross
Further information: Instrument of Jesus' crucifixion, Early Christian symbols, Christogram, and Christian cross variants
The shape of the cross (crux, stauros "stake, gibbet"), as represented by the letter T, came to be used as a "seal" or symbol of Early Christianity by the 2nd century. Clement of Alexandria in the early 3rd century calls it τὸ κυριακὸν σημεῖον ("the Lord's sign") he repeats the idea, current as early as the Epistle of Barnabas, that the number 318 (in Greek numerals, ΤΙΗ) in Genesis 14:14 was a foreshadowing (a "type") of the cross (the letter Tau) and of Jesus (the letters Iota Eta). Clement's contemporary Tertullian rejects the accusation that Christians are crucis religiosi (i.e. "adorers of the gibbet"), and returns the accusation by likening the worship of pagan idols to the worship of poles or stakes. In his book De Corona, written in 204, Tertullian tells how it was already a tradition for Christians to trace repeatedly on their foreheads the sign of the cross.
While early Christians used the T-shape to represent the cross in writing and gesture, the use of the Greek cross and Latin cross, i.e. crosses with intersecting beams, appears in Christian art towards the end of Late Antiquity. An early example of the cruciform halo, used to identify Christ in paintings, is found in the Miracles of the Loaves and Fishes mosaic of Sant'Apollinare Nuovo, Ravenna (6th century). The Patriarchal cross, a Latin cross with an additional horizontal bar, first appears in the 10th century. A wide variation of cross symbols is introduced for the purposes of heraldry beginning in the age of the Crusades.
---
Theodosius II - Roman Emperor: 408-450 A.D.
402-408 A.D. - Junior Augustus (with Arcadius) | 408-450 A.D. - Sole reign
Ruling in the West: Honorius 393-423 A.D. | Constantine III 407-411 A.D. | Constans II 409-411 A.D. | Maximus 409-411 A.D. | Priscus Attalus 409-410A.D. and 415-416 A.D. | Jovinus 411-413 A.D. | Sebastianus 412-413 A.D. | Constantius III 421 A.D. | Johannes 423-425 A.D. and Valentinian III 425-455 A.D. |
| Son of Arcadius and Aelia Eudoxia | Brother of Aelia Pulcheria | Husband of Aelia Eudocia | Father of Licinia Eudoxia | Brother-in-law of Marcian | Father-in-law of Valentianian III and Petronius Maximus | Nephew of Honorius | Half-cousin of Valentinian III and Honoria | Grandson of Theodosius I and Aelia Flacilla |
Theodosius II (Latin: Flavius Theodosius Iunior Augustus; 10 April 401 – 28 July 450), commonly surnamed Theodosius the Younger, or Theodosius the Calligrapher, was Eastern Roman Emperor from 408 to 450. He is mostly known for promulgating the Theodosian law code, and for the construction of the Theodosian Walls of Constantinople. He also presided over the outbreak of two great christological controversies, Nestorianism and Eutychianism.
Life
Theodosius was born in 401 as the only son of Emperor Arcadius and his Frankish-born wife Aelia Eudoxia. Already in January AD 402 he was proclaimed co-Augustus by his father, thus becoming the youngest person ever to bear this title in Roman history. In 408, his father died and the seven-year-old boy became Emperor of the Eastern half of the Roman Empire.
Government was at first by the Praetorian Prefect Anthemius, under whose supervision the Theodosian land walls of Constantinople were constructed.
In 414, Theodosius' older sister Pulcheria was proclaimed Augusta and assumed the regency. By 416 Theodosius was declared Augustus in his own right and the regency ended, but his sister remained a strong influence on him. In June 421, Theodosius married Aelia Eudocia, a woman of Greek origin. The two had a daughter named Licinia Eudoxia. A separation ultimately occurred between the imperial couple, with Eudocia's establishment in Jerusalem where she favoured monastic Monophysitism and Pulcheria reassuming an influential role with the support of the eunuch Chrysapius.
Theodosius' increasing interest in Christianity, fuelled by the influence of Pulcheria, led him to go to war against the Sassanids (421–422), who were persecuting Christians; the war ended in a stalemate, when the Romans were forced to accept peace as the Huns menaced Constantinople
In 423, the Western Emperor Honorius, Theodosius' uncle, died and the primicerius notariorum Joannes was proclaimed Emperor. Honorius' sister Galla Placidia and her young son Valentinian fled to Constantinople to seek Eastern assistance and after some deliberation in 424 Theodosius opened the war against Joannes. On 23 October 425, Valentinian III was installed as Emperor of the West with the assistance of the magister officiorum Helion, with his mother acting as regent. To strengthen the ties between the two parts of the Empire, Theodosius' daughter Licinia Eudoxia was betrothed to Valentinian.
University and Law Code
In 425, Theodosius founded the University of Constantinople with 31 chairs (15 in Latin and 16 in Greek). Among subjects were law, philosophy, medicine, arithmetic, geometry, astronomy, music and rhetoric.
In 429, Theodosius appointed a commission to collect all of the laws since the reign of Constantine I, and create a fully formalized system of law. This plan was left unfinished, but the work of a second commission that met in Constantinople, assigned to collect all of the general legislations and bring them up to date was completed, and their collection published as the Codex Theodosianus in 438. The law code of Theodosius II, summarizing edicts promulgated since Constantine, formed a basis for the law code of Emperor Justinian I, the Corpus Juris Civilis, in the following century.
Wars with the Huns, Vandals, and Persians
The war with Persia proved indecisive, and a peace was arranged in 422 without changes to the status quo. The later wars of Theodosius were generally less successful.
The Eastern Empire was plagued by raids by the Huns. Early in Theodosius II's reign Romans used internal Hun discord to overcome Uldin's invasion of the Balkans. The Romans strengthened their fortifications and in 424 agreed to pay 350 pounds of gold to encourage the Huns to remain at peace with the Romans. In 433 with the rise of Attila and Bleda to unify the Huns, the payment was doubled to 700 pounds.
When Roman Africa fell to the Vandals in 439, both Eastern and Western Emperors sent forces to Sicily, intending to launch an attack on the Vandals at Carthage, but this project failed. Seeing the Imperial borders without significant forces, the Huns and Sassanid Persia both attacked and the expeditionary force had to be recalled. During 443 two Roman armies were defeated and destroyed by the Huns. Anatolius negotiated a peace agreement; the Huns withdrew in exchange for humiliating concessions, including an annual tribute of 2,100 Roman pounds (ca. 687 kg) of gold. In 447 the Huns went through the Balkans, destroying among others the city of Serdica (Sofia) and reaching Athyra (Büyükçekmece) on the outskirts of Constantinople.
Theological disputes
During a visit to to Syria Nestorius, who was a renowned preacher. He appointed Nestorius Archbishop of Constantinople in 428. Nestorius quickly became involved in the disputes of two theological factions, which differed in their Christology. Nestorius tried to find a middle ground between those who, emphasizing the fact that in Christ God had been born as a man, insisted on calling the Virgin Mary Theotokos ("birth-giver of God"), and those who rejected that title because God, as an eternal being, could not have been born. Nestorius suggested the title Christotokos ("birth-giver of Christ") as a compromise, but it did not find acceptance with either faction. He was accused of separating Christ's divine and human natures, resulting in "two Christs", a heresy later called Nestorianism. Though initially supported by the emperor, Nestorius found a forceful opponent in Archbishop Cyril of Alexandria. At the request of Nestorius, the emperor called a council, which convened in Ephesus in 431. This council affirmed the title Theotokos and condemned Nestorius, who returned to his monastery in Syria and was eventually exiled to a remote monastery in Egypt.
Almost twenty years later, the theological dispute broke out again, this time caused by the Constantinopolitan abbot Eutyches, whose Christology was understood by some to mingle Christ's divine and human nature into one. Eutyches was condemned by Archbishop Flavian of Constantinople but found a powerful friend in Cyril's successor Dioscurus of Alexandria. Another council was convoked in Ephesus in 449, later deemed a "robber synod" by Pope Leo I because of its tumultuous circumstances. This council restored Eutyches and deposed Flavian, who was mistreated and died shortly afterwards. Leo of Rome and many other bishops protested against the outcome, but the emperor supported it. Only after his death in 450 would the decisions be reversed at the Council of Chalcedon.
Death
Theodosius died in 450 as the result of a riding accident. In the ensuing power struggle, his sister Pulcheria, who had recently returned to court, won out against the eunuch Chrysaphius. She married the general Marcian, thereby making him Emperor.
See also
Flavia (gens)
House of Theodosiuss
List of Byzantine emperors
---
Frequently Asked Questions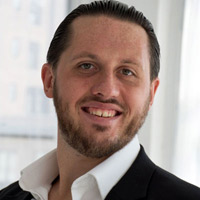 Mr. Ilya Zlobin, world-renowned expert numismatist, enthusiast, author and dealer in authentic ancient Greek, ancient Roman, ancient Byzantine, world coins & more.
Who am I dealing with?
You are dealing with Ilya Zlobin, ancient coin expert, enthusiast, author and dealer with an online store having a selection of over 15,000 items with great positive feedback from verified buyers and over 10 years experience dealing with over 57,000 ancient and world coins and artifacts. Ilya Zlobin is an independent individual who has a passion for coin collecting, research and understanding the importance of the historical context and significance all coins and objects represent. Most others are only concerned with selling you, Ilya Zlobin is most interested in educating you on the subject, and providing the largest selection, most professional presentation and service for the best long-term value for collectors worldwide creating returning patrons sharing in the passion of ancient and world coin collecting for a lifetime.
How long until my order is shipped?
Orders are shipped by the next business day (after receipt of payment) most of the time.
How will I know when the order was shipped?
After your order has shipped, you will be left positive feedback, and that date could be used as a basis of estimating an arrival date. Any tracking number would be found under your 'Purchase history' tab.

USPS First Class mail takes about 3-5 business days to arrive in the U.S. International shipping times cannot be estimated as they vary from country to country.

Standard international mail to many countries does not include a tracking number, and can also be slow sometimes. For a tracking number and signature confirmation, you may want to do Express Mail International Shipping, which costs more, however, is the fastest and most secure. Additionally you may be able to receive your order in as little as 3-5 business days using this method. For Express Mail International, it may be possible to place up to 10-15 items in one package (for the one shipping cost) as it is flat rate envelope, which may be the most cost-effective, secure and fastest way to receive items internationally. Send me a message about this and I can update your invoice should you want this method.

Getting your order to you, quickly and securely is a top priority and is taken seriously here. Great care is taken in packaging and mailing every item securely and quickly.

Please be aware, I cannot take responsibility for any postal service delivery delays, especially for international packages as it may happen in rare instances.
What is a certificate of authenticity and what guarantees do you give that the item is authentic?
Each of the items sold here, is provided with a Certificate of Authenticity, and a Lifetime Guarantee of Authenticity, issued by a world-renowned numismatic and antique expert that has identified over 57,000 ancient coins and has provided them with the same guarantee. You will be very happy with what you get with the COA; a professional presentation of the coin, with all of the relevant information and a picture of the coin you saw in the listing. Additionally, the coin is inside it's own protective coin flip (holder), with a 2x2 inch description of the coin matching the individual number on the COA.

On the free-market such a presentation alone, can be considered a $25-$50 value all in itself, and it comes standard with your purchases from me, FREE. With every purchase, you are leveraging my many years of experience to get a more complete context and understanding of the piece of history you are getting. Whether your goal is to collect or give the item as a gift, coins presented like this could be more prized and valued higher than items that were not given such care and attention to.

Buy a coin today and own a piece of history, guaranteed.
Is there a money back guarantee?
I offer a 30 day unconditional money back guarantee. I stand behind my coins and would be willing to exchange your order for either store credit towards other coins, or refund, minus shipping expenses, within 30 days from the receipt of your order. My goal is to have the returning customers for a lifetime, and I am so sure in my coins, their authenticity, numismatic value and beauty, I can offer such a guarantee.
Is there a number I can call you with questions about my order?
You can contact me directly via ask seller a question and request my telephone number, or go to my About Me Page to get my contact information only in regards to items purchased on .
When should I leave feedback?
Once you receive your order, please leave a positive feedback. Please don't leave any negative feedbacks, as it happens sometimes that people rush to leave feedback before letting sufficient time for their order to arrive. Also, if you sent an email, make sure to check for my reply in your messages before claiming that you didn't receive a response. The matter of fact is that any issues can be resolved, as reputation is most important to me. My goal is to provide superior products and quality of service.
How and where do I learn more about collecting ancient coins?
Visit the "Guide on How to Use My Store" for on an overview about using my store, with additional information and links to all other parts of my store which may include educational information on topics you are looking for.

You may also want to do a YouTube search for the term "ancient coin collecting" for educational videos on this topic.
Listing Information
| | |
| --- | --- |
| Listing Type | Gallery Listing |
| Listing ID# | 155226569 |
| Start Time | Wed 01 Mar 2017 18:05:48 (EST) |
| Close Time | Thu 12 Oct 2017 11:39:06 (EST) |
| Starting Bid | Fixed Price (no bidding) |
| Item Condition | See Descr. |
| Bids | 0 |
| Views | 1 |
| Dispatch Time | Next Day |
| Quantity | 1 |
| Location | United States |
| Auto Extend | No |
Purchase Activity
Username
Time & Date
Amount
No Bids as of Yet

This is a single item listing. If an auction is running, the winning bidder will be the highest bidder.