SELEUKOS IV Philopator 187BC Seleukid ARTEMIS DEER Ancient Greek Coin i59635
Listing Ended. This listing from
ZlobinCoins
[
+14714
] ended on Thu 12 Oct 2017 11:39:05 (EST). If you were involved in this then you can
click here
to login and view it within My eBid. To see more items from this seller
click here
. Public bidding/purchase history
can be seen below
.
Condition : See Descr.
Dispatch : Next Day
Barcode :

None

Brand : Ilya Zlobin
Start : Wed 01 Mar 2017 18:05:04 (EST)
Close : Thu 12 Oct 2017 11:39:05 (EST)
Remain :

Listing Closed


Domestic Shipping to
United States

for
1
item(s)
edit
Not Known = $4.50
Add a video to your auctions, just type in the YouTube video id when listing on eBid.
Seller's Description
Item: i59635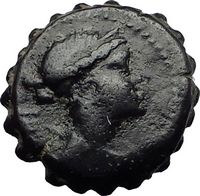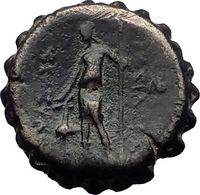 Authentic Ancient
Greek Coin of Seleucid Kingdom
Seleukos IV, Philopator - King: 187-175 B.C.
Serrated Edge Bronze 16mm (6.14 grams) Antioch on the Orontes mint.
Reference: Sear 6971; B.M.C. 4. 33,27-8; HGC 9, 591
Diademed bust of Artemis right, quiver at shoulder.
ΒΑΣΙΛΕΩΣ / ΣEΛΕYKOY either side of Artemis standing left, holding spear; deer (doe or stag) left at her side.

The kingdom bequeathed by Antiochos the Great to his son, Seleukos IV, was very different from the one which he himself had ruled just a few years before. Asia minor was lost to the kings of Pergamon, the eastern provinces of Parthia and Baktria were not firmly established as independent kingdoms, and in addition Seleukos had to pay a heavy annual war-indemnity to the Romans. What was left to the Seleukid realm he seems to have governed wisely and well until 175 B.C. when he was murdered by his minister Heliodoros.
You are bidding on the exact item pictured, provided with a Certificate of Authenticity and Lifetime Guarantee of Authenticity.
---
Artemis was one of the most widely venerated of the Ancient Greek deities. Some scholars believe that the name, and indeed the goddess herself, was originally pre-Greek. Homer refers to her as Artemis Agrotera, Potnia Theron "Artemis of the wildland, Mistress of Animals". In the classical period of Greek mythology, Artemis (Greek: (nominative) Ἄρτεμις, (genitive) Ἀρτέμιδος) was often
described as the daughter of Zeus and Leto, and the twin sister of Apollo. She was the Hellenic goddess of the hunt, wild animals, wilderness, childbirth, virginity and young girls, bringing and relieving disease in women; she often was depicted as a huntress carrying a bow and arrows. The deer and the cypress were sacred to her. In later Hellenistic times, she even assumed the ancient role of Eileithyia in aiding childbirth.
Artemis later became identified with Selene, a Titaness who was a Greek moon goddess, sometimes depicted with a crescent moon above her head. She was also identified with the Roman goddess Diana, with the Etruscan goddess Artume, and with the Greek or Carian goddess Hecate.
---
---
Seleucus IV Philopator (Greek: Σέλευκος Δ΄ Φιλοπάτωρ; c. 218 – 175 BC), ruler of the Hellenistic Seleucid Empire, reigned from 187 BC to 175 BC. He was the second son and successor of Antiochus III the Great and Laodice III. Seleucus IV wed his sister Laodice IV, by whom he had three children: two sons Antiochus, Demetrius I Soter and a daughter Laodice V.
He was compelled by financial necessities, created in part by the heavy war-indemnity exacted by Rome, to pursue an ambitious policy. In an effort to collect money to pay the Romans, he sent his minister Heliodorus to Jerusalem to seize the Jewish temple treasury.
The Bible tells of a prophecy given by a messenger angel in Daniel 11:20 (NLT). The text states that Seleucus "will be remembered as the king who sent a tax collector to maintain the royal splendor." The deuterocanonical lends more to this in 2 Maccabees 3:2-3... "It came to pass that even the kings themselves, and the princes esteemed the place [the Temple in Jerusalem] worthy of the highest honour, and glorified the temple with very great gifts: So that Seleucus king of Asia allowed out of his revenues all the charges belonging to the ministry of the sacrifices."
On his return from Jerusalem, Heliodorus assassinated Seleucus, and seized the throne for himself. The true heir Demetrius, son of Seleucus, was now being retained in Rome as a hostage, and the kingdom was seized by the younger brother of Seleucus, Antiochus IV Epiphanes. Antiochus managed to oust Heliodorus and an infant son of Seleucus, also named Antiochus, was formal head of state for a few years until Epiphanes had him murdered.
---
Seleucid Empire
Σελεύκεια
Seleúkeia
| | | |
| --- | --- | --- |
| | 312 BC–63 BC | ↓ |
The Seleucid Empire in 301 BC.
The Seleucid Empire was a Hellenistic state ruled by the Seleucid dynasty founded by Seleucus I Nicator following the division of the empire created by Alexander the Great. Seleucus received Babylonia and, from there, expanded his dominions to include much of Alexander's near eastern territories.
The Seleucid Empire was a major center of Hellenistic culture that maintained the preeminence of Greek customs where a Greek-Macedonian political elite dominated, mostly in the urban areas. The Greek population of the cities who formed the dominant elite were reinforced by emigration from Greece. Seleucid expansion into Anatolia and Greece was abruptly halted after decisive defeats at the hands of the Roman army. Their attempts to defeat their old enemy Ptolemaic Egypt were frustrated by Roman demands. Much of the eastern part of the empire was conquered by the Parthians under Mithridates I of Parthia in the mid-2nd century BC, yet the Seleucid kings continued to rule a rump state from the Seleukid Kingdom until the invasion by Armenian king Tigranes the Great and their ultimate overthrow by the Roman general Pompey.
---
Frequently Asked Questions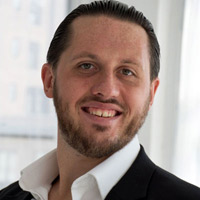 Mr. Ilya Zlobin, world-renowned expert numismatist, enthusiast, author and dealer in authentic ancient Greek, ancient Roman, ancient Byzantine, world coins & more.
Who am I dealing with?
You are dealing with Ilya Zlobin, ancient coin expert, enthusiast, author and dealer with an online store having a selection of over 15,000 items with great positive feedback from verified buyers and over 10 years experience dealing with over 57,000 ancient and world coins and artifacts. Ilya Zlobin is an independent individual who has a passion for coin collecting, research and understanding the importance of the historical context and significance all coins and objects represent. Most others are only concerned with selling you, Ilya Zlobin is most interested in educating you on the subject, and providing the largest selection, most professional presentation and service for the best long-term value for collectors worldwide creating returning patrons sharing in the passion of ancient and world coin collecting for a lifetime.
How long until my order is shipped?
Orders are shipped by the next business day (after receipt of payment) most of the time.
How will I know when the order was shipped?
After your order has shipped, you will be left positive feedback, and that date could be used as a basis of estimating an arrival date. Any tracking number would be found under your 'Purchase history' tab.

USPS First Class mail takes about 3-5 business days to arrive in the U.S. International shipping times cannot be estimated as they vary from country to country.

Standard international mail to many countries does not include a tracking number, and can also be slow sometimes. For a tracking number and signature confirmation, you may want to do Express Mail International Shipping, which costs more, however, is the fastest and most secure. Additionally you may be able to receive your order in as little as 3-5 business days using this method. For Express Mail International, it may be possible to place up to 10-15 items in one package (for the one shipping cost) as it is flat rate envelope, which may be the most cost-effective, secure and fastest way to receive items internationally. Send me a message about this and I can update your invoice should you want this method.

Getting your order to you, quickly and securely is a top priority and is taken seriously here. Great care is taken in packaging and mailing every item securely and quickly.

Please be aware, I cannot take responsibility for any postal service delivery delays, especially for international packages as it may happen in rare instances.
What is a certificate of authenticity and what guarantees do you give that the item is authentic?
Each of the items sold here, is provided with a Certificate of Authenticity, and a Lifetime Guarantee of Authenticity, issued by a world-renowned numismatic and antique expert that has identified over 57,000 ancient coins and has provided them with the same guarantee. You will be very happy with what you get with the COA; a professional presentation of the coin, with all of the relevant information and a picture of the coin you saw in the listing. Additionally, the coin is inside it's own protective coin flip (holder), with a 2x2 inch description of the coin matching the individual number on the COA.

On the free-market such a presentation alone, can be considered a $25-$50 value all in itself, and it comes standard with your purchases from me, FREE. With every purchase, you are leveraging my many years of experience to get a more complete context and understanding of the piece of history you are getting. Whether your goal is to collect or give the item as a gift, coins presented like this could be more prized and valued higher than items that were not given such care and attention to.

Buy a coin today and own a piece of history, guaranteed.
Is there a money back guarantee?
I offer a 30 day unconditional money back guarantee. I stand behind my coins and would be willing to exchange your order for either store credit towards other coins, or refund, minus shipping expenses, within 30 days from the receipt of your order. My goal is to have the returning customers for a lifetime, and I am so sure in my coins, their authenticity, numismatic value and beauty, I can offer such a guarantee.
Is there a number I can call you with questions about my order?
You can contact me directly via ask seller a question and request my telephone number, or go to my About Me Page to get my contact information only in regards to items purchased on .
When should I leave feedback?
Once you receive your order, please leave a positive feedback. Please don't leave any negative feedbacks, as it happens sometimes that people rush to leave feedback before letting sufficient time for their order to arrive. Also, if you sent an email, make sure to check for my reply in your messages before claiming that you didn't receive a response. The matter of fact is that any issues can be resolved, as reputation is most important to me. My goal is to provide superior products and quality of service.
How and where do I learn more about collecting ancient coins?
Visit the "Guide on How to Use My Store" for on an overview about using my store, with additional information and links to all other parts of my store which may include educational information on topics you are looking for.

You may also want to do a YouTube search for the term "ancient coin collecting" for educational videos on this topic.
Listing Information
| | |
| --- | --- |
| Listing Type | Gallery Listing |
| Listing ID# | 155226544 |
| Start Time | Wed 01 Mar 2017 18:05:04 (EST) |
| Close Time | Thu 12 Oct 2017 11:39:05 (EST) |
| Starting Bid | Fixed Price (no bidding) |
| Item Condition | See Descr. |
| Bids | 0 |
| Views | 1 |
| Dispatch Time | Next Day |
| Quantity | 1 |
| Location | United States |
| Auto Extend | No |
Purchase Activity
Username
Time & Date
Amount
No Bids as of Yet

This is a single item listing. If an auction is running, the winning bidder will be the highest bidder.