Richard Wagner Oranje Nassau model ship KNSM Royal Netherlands Steamship Co
Item is from United Kingdom, bids are GBP(£), USD($) prices are estimates.
Condition : Used
Dispatch : Not given
Barcode :

None

Brand : None
Start : Sat 16 Jan 2016 04:06:35 (EST)
Close : Run Until Sold
Remain :

Run Until Sold
Seller's Description
This item is CASH PAYMENT ONLY ON COLLECTION -- I WILL NOT be accepting any other payment method or sending the item. Collection times etc, must be arranged BEFORE YOU BUY. Thank you.
Only the person buying the item to collect - no third party involvement.
To buy on ebid.net join

here
Oranje Nassau Richard Wagner model ship KNSM Royal Netherlands Steamship Co Amsterdam
READ THIS CAREFULLY BEFORE PLACING YOUR BID
THIS ITEM IS LOCAL COLLECTION (SOUTHAMPTON) ONLY. Item to be collected by the BUYER ONLY - no intermediaries.
THE PAYMENT METHOD IS CASH ONLY ON COLLECTION
If you are not local to Southampton (i.e. a half hour drive) please discuss arrangements for collection BEFORE bidding - this is to save YOUR time.
DON'T BID IF YOU CAN'T ADHERE TO THE ABOVE
DESCRIPTION
Please read the whole description carefully and fully inspect the photos underneath the text.

I don't know much about this item so you must use your own knowledge of model ships to make your final purchase decision. Please be sure to ask any questions you might have before bidding. - model length approx 255mm. Plinth length approx 300. Plinth width approx 70mm. I don't know how old the model is, I am guessing it is from the mid 20th century. There is a label on the base for Richard Wagner modelbau Flensburg Germany - I understand Richard Wagner models are sought after and can be difficult to get hold of. There appears to be damage to the front, which you will see in the images below, I don't know if the item is complete. It is a little dusty and the cleaning is best left to the expert model enthusiast. The blue "sea" area lifts slightly way from the wooden plinth at the front end; the ship lifts slightly away from the blue area towards the rear.

This will be a little difficult to package and in my opinion is a little fragile for posting therefore the item is COLLECTION ONLY - CASH ON COLLECTION - don't use paypal, you will be refunded minus my ebid and paypal fees. Please be sure to ask any questions BEFORE you commit to purchase.

Thank you for looking.
Please see the images below.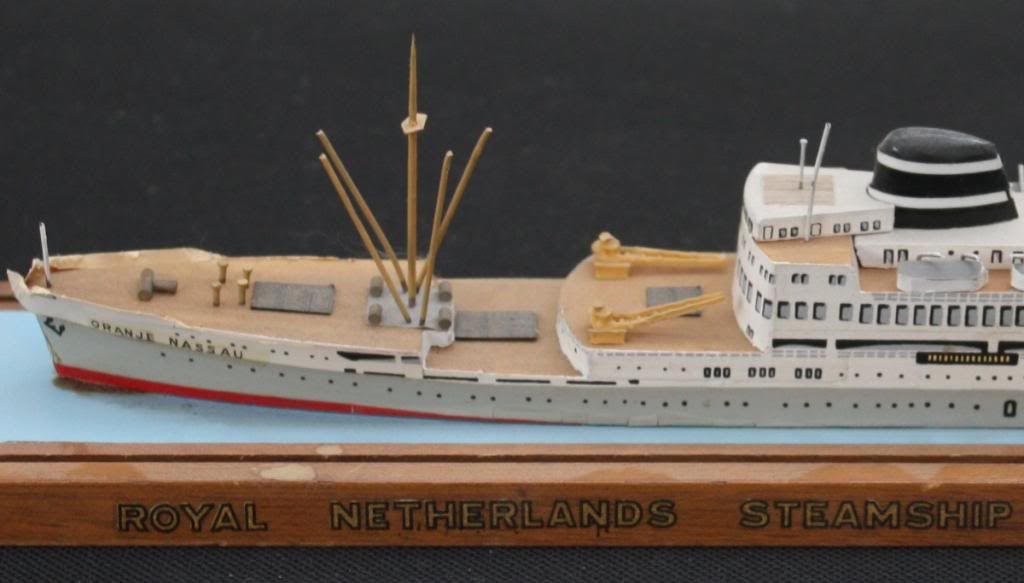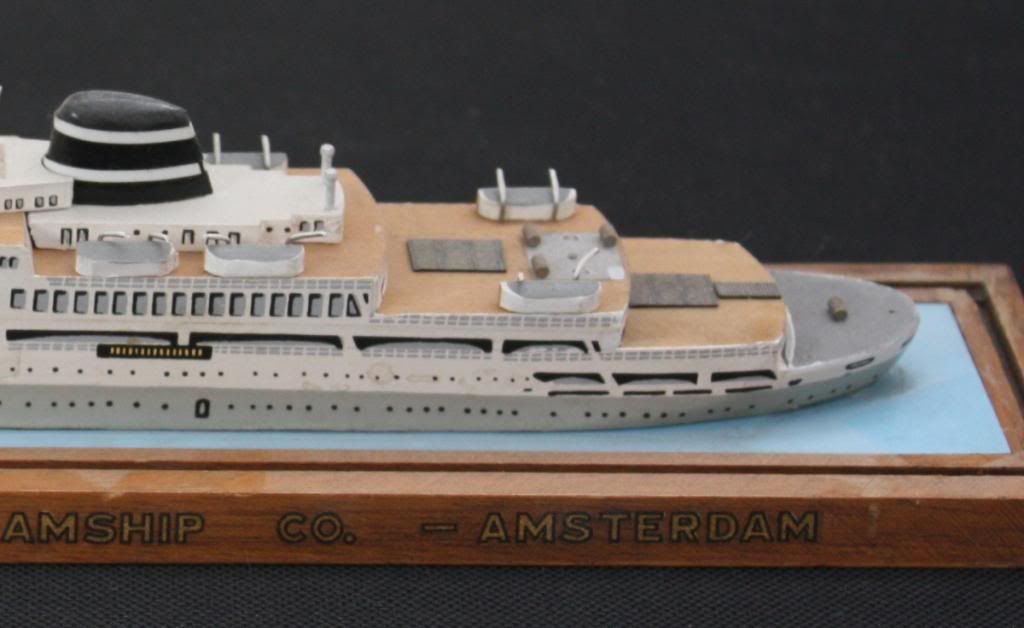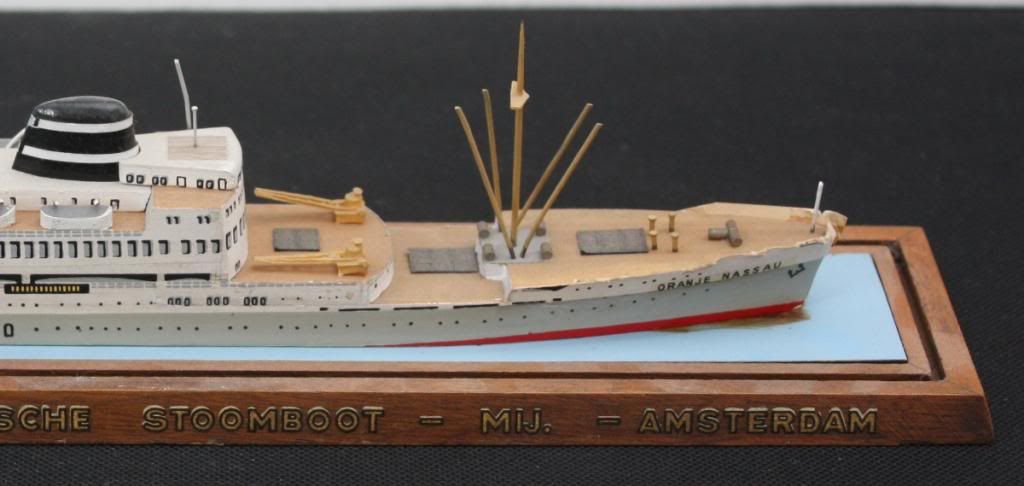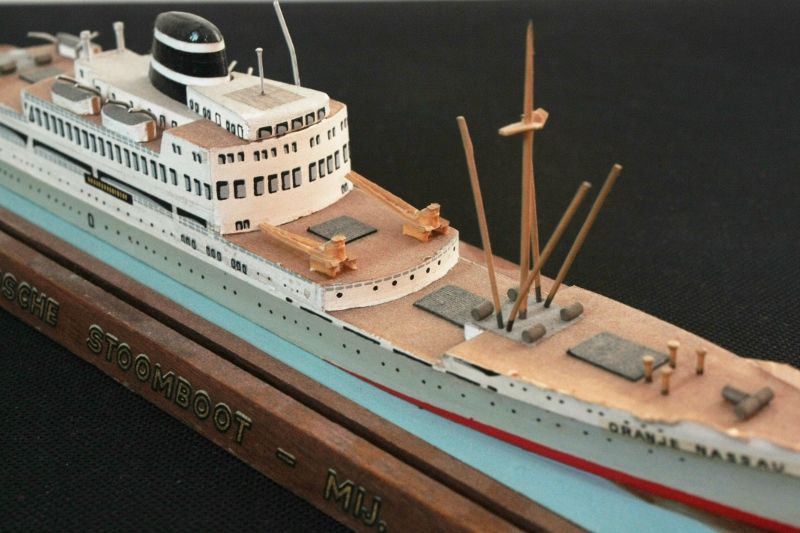 To buy on ebid.net join
here
Listing Information
| | |
| --- | --- |
| Listing Type | Free Listing |
| Listing ID# | 145249160 |
| Start Time | Sat 16 Jan 2016 04:06:35 (EST) |
| Close Time | Run Until Sold |
| Starting Bid | Fixed Price (no bidding) |
| Item Condition | Used |
| Bids | 0 |
| Views | 900 |
| Dispatch Time | Not given |
| Quantity | 1 |
| Location | United Kingdom |
| Auto Extend | No |
Returns Policy
Returns Not Accepted
Purchase Activity
Username
Time & Date
Amount
No Bids as of Yet

This is a single item listing. If an auction is running, the winning bidder will be the highest bidder.
Questions and Answers
Question From ChrisVis [0]
Sat 27 Jan 2018 15:35:15 (EST)
Hello I like to buy this modell. You don't ship to the Netherlands but when I have an adress in the UK can you send the parcel to the UK adres?Best regards Chris Visee
Answer From booksforsale [+779]


Wed 31 Jan 2018 03:29:08 (EST)

Hello, as stated in the listing the item is collection only.