NEONTEICHOS in AEOLIS 200BC Athena Owl Authentic Ancient Greek Coin i59649
Listing Ended. This listing from
ZlobinCoins
[
+14714
] ended on Thu 12 Oct 2017 11:39:05 (EST). If you were involved in this then you can
click here
to login and view it within My eBid. To see more items from this seller
click here
. Public bidding/purchase history
can be seen below
.
Condition : See Descr.
Dispatch : Next Day
Barcode :

None

Brand : Ilya Zlobin
Start : Wed 01 Mar 2017 18:05:25 (EST)
Close : Thu 12 Oct 2017 11:39:05 (EST)
Remain :

Listing Closed


Domestic Shipping to
United States

for
1
item(s)
edit
Not Known = $4.50
Add a video to your auctions, just type in the YouTube video id when listing on eBid.
Seller's Description
Item: i59649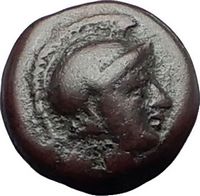 Authentic Ancient Coin of:
Greek city of Neonteichos in Aeolis
Bronze 9mm (0.97 grams) Struck circa 200-100 B.C.
Reference: Sear 4223; B.M.C. 17.141,1
Head of Athena right, in crested helmet.
Owl standing right, head facing; NE monogram below.
Situated a short distance south-east of Larissa Phriconis.

You are bidding on the exact item pictured, provided with a Certificate of Authenticity and Lifetime Guarantee of Authenticity.
---
Athena or Athene (Latin: Minerva), also referred to as Pallas Athena, is the goddess of war, civilization, wisdom, strength, strategy, crafts, justice and skill in Greek mythology. Minerva, Athena's Roman incarnation, embodies similar attributes. Athena is also a shrewd companion of heroes and the goddess of heroic endeavour. She is the virgin patron of Athens. The Athenians built the Parthenon on the Acropolis of her namesake city, Athens, in her honour (Athena Parthenos). Athena's cult as the patron of Athens seems to have existed from the earliest times and was so persistent that archaic myths about her were recast to adapt to cultural changes. In her role as a protector of the city (polis), many people throughout the Greek world worshiped Athena as Athena Polias ("Athena of the city"). Athens and Athena bear etymologically connected names.
---
In Greek mythology, a Little Owl baby (Athene noctua) traditionally represents or accompanies Athena, the virgin goddess of wisdom, or Minerva, her syncretic incarnation in Roman mythology. Because of such association, the bird — often referred to as the "owl of Athena" or the "owl of Minerva" — has been used as a symbol of knowledge, wisdom, perspicacity and erudition throughout the Western world.
Some authors believe that, in early times, Athena was either an owl herself or a bird goddess in general: In the third Book of the Odyssey, she takes the form of a sea-eagle. These authors argue that she dropped her prophylactic owl-mask before she lost her wings. "Athena, by the time she appears in art," Jane Ellen Harrison had remarked, "has completely shed her animal form, has reduced the shapes she once wore of snake and bird to attributes, but occasionally in black-figure vase-paintings she still appears with wings.
The modern West generally associates owls with wisdom. This link goes back at least as far as Ancient Greece, where Athens, noted for art and scholarship, and Athena, Athens' patron goddess and the goddess of wisdom, had the owl as a symbol. Marija Gimbutas traces veneration of the owl as a goddess, among other birds, to the culture of Old Europe, long pre-dating Indo-European cultures.
Owls, birds of the order Strigiformes, include about 200 species of mostly solitary and nocturnal birds of prey typified by an upright stance, a large, broad head, binocular vision and binaural hearing, and feathers adapted for silent flight. Exceptions include the diurnal northern hawk-owl and the gregarious burrowing owl. Owls hunt mostly small mammals, insects, and other birds, although a few species specialize in hunting fish. They are found in all regions of the Earth except Antarctica and some remote islands. Owls are divided into two families: the true owls, Strigidae; and the barn-owls, Tytonidae.
---
Aeolis (Ancient Greek: Αἰολίς, Aiolís) or Aeolia (/iːˈoʊli.ə/; Αἰολία, Aiolía) was an area that comprised the west and northwestern region of Asia Minor, mostly along the coast, and also several offshore islands (particularly Lesbos), where the Aeolian Greek city-states were located. Aeolis incorporated the southern parts of Mysia which bounded it to the north, Ionia to the south, and Lydia to the east.
Geography
Aeolis was an ancient district on the western coast of Asia Minor. It extended along the Aegean Sea from the entrance of the Hellespont (now the Dardanelles) south to the Hermus River (now the Gediz River). It was named for the Aeolians, some of whom migrated there from Greece before 1000 BC. Aeolis was, however, an ethnological and linguistic enclave rather than a geographical unit. The district often was considered part of the larger northwest region of Mysia.
History
According to Homer's description, Odysseus, after his stay with the Cyclopes, reached the island of Aeolia, who provided him with the west wind Zephyr.
In early times, by the 8th century BC, the Aeolians' twelve most important cities were independent, and formed a league (Dodecapolis): Cyme, Larissa (also called Phriconis), Neonteichos, Temnus, Cilla, Notion, Aegiroessa, Pitane, Aegae, Myrina, Gryneion, and Smyrna.
The most celebrated of the cities was Smyrna (modern Izmir, Turkey), but in 699 BC, Smyrna became part of an Ionian confederacy. The remaining cities were conquered by Croesus, king of Lydia (reigned 560-546 BC). Later they were held successively by the Persians, Macedonians, Seleucids, and Pergamenes.
Attalus III, the last king of Pergamum, bequeathed Aeolis to Rome in 133 BC. Shortly afterward, it was made part of the Roman province of Asia. At the partition of the Roman Empire (395 AD), Aeolis was assigned to the East Roman (Byzantine) empire and remained under Byzantine rule until the early 15th century, when the Ottoman Turks occupied the area.
Natives of Aeolis
Autolycus of Pitane
Andriscus
Elias Venezis
---
Frequently Asked Questions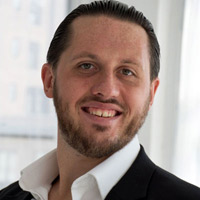 Mr. Ilya Zlobin, world-renowned expert numismatist, enthusiast, author and dealer in authentic ancient Greek, ancient Roman, ancient Byzantine, world coins & more.
Who am I dealing with?
You are dealing with Ilya Zlobin, ancient coin expert, enthusiast, author and dealer with an online store having a selection of over 15,000 items with great positive feedback from verified buyers and over 10 years experience dealing with over 57,000 ancient and world coins and artifacts. Ilya Zlobin is an independent individual who has a passion for coin collecting, research and understanding the importance of the historical context and significance all coins and objects represent. Most others are only concerned with selling you, Ilya Zlobin is most interested in educating you on the subject, and providing the largest selection, most professional presentation and service for the best long-term value for collectors worldwide creating returning patrons sharing in the passion of ancient and world coin collecting for a lifetime.
How long until my order is shipped?
Orders are shipped by the next business day (after receipt of payment) most of the time.
How will I know when the order was shipped?
After your order has shipped, you will be left positive feedback, and that date could be used as a basis of estimating an arrival date. Any tracking number would be found under your 'Purchase history' tab.

USPS First Class mail takes about 3-5 business days to arrive in the U.S. International shipping times cannot be estimated as they vary from country to country.

Standard international mail to many countries does not include a tracking number, and can also be slow sometimes. For a tracking number and signature confirmation, you may want to do Express Mail International Shipping, which costs more, however, is the fastest and most secure. Additionally you may be able to receive your order in as little as 3-5 business days using this method. For Express Mail International, it may be possible to place up to 10-15 items in one package (for the one shipping cost) as it is flat rate envelope, which may be the most cost-effective, secure and fastest way to receive items internationally. Send me a message about this and I can update your invoice should you want this method.

Getting your order to you, quickly and securely is a top priority and is taken seriously here. Great care is taken in packaging and mailing every item securely and quickly.

Please be aware, I cannot take responsibility for any postal service delivery delays, especially for international packages as it may happen in rare instances.
What is a certificate of authenticity and what guarantees do you give that the item is authentic?
Each of the items sold here, is provided with a Certificate of Authenticity, and a Lifetime Guarantee of Authenticity, issued by a world-renowned numismatic and antique expert that has identified over 57,000 ancient coins and has provided them with the same guarantee. You will be very happy with what you get with the COA; a professional presentation of the coin, with all of the relevant information and a picture of the coin you saw in the listing. Additionally, the coin is inside it's own protective coin flip (holder), with a 2x2 inch description of the coin matching the individual number on the COA.

On the free-market such a presentation alone, can be considered a $25-$50 value all in itself, and it comes standard with your purchases from me, FREE. With every purchase, you are leveraging my many years of experience to get a more complete context and understanding of the piece of history you are getting. Whether your goal is to collect or give the item as a gift, coins presented like this could be more prized and valued higher than items that were not given such care and attention to.

Buy a coin today and own a piece of history, guaranteed.
Is there a money back guarantee?
I offer a 30 day unconditional money back guarantee. I stand behind my coins and would be willing to exchange your order for either store credit towards other coins, or refund, minus shipping expenses, within 30 days from the receipt of your order. My goal is to have the returning customers for a lifetime, and I am so sure in my coins, their authenticity, numismatic value and beauty, I can offer such a guarantee.
Is there a number I can call you with questions about my order?
You can contact me directly via ask seller a question and request my telephone number, or go to my About Me Page to get my contact information only in regards to items purchased on .
When should I leave feedback?
Once you receive your order, please leave a positive feedback. Please don't leave any negative feedbacks, as it happens sometimes that people rush to leave feedback before letting sufficient time for their order to arrive. Also, if you sent an email, make sure to check for my reply in your messages before claiming that you didn't receive a response. The matter of fact is that any issues can be resolved, as reputation is most important to me. My goal is to provide superior products and quality of service.
How and where do I learn more about collecting ancient coins?
Visit the "Guide on How to Use My Store" for on an overview about using my store, with additional information and links to all other parts of my store which may include educational information on topics you are looking for.

You may also want to do a YouTube search for the term "ancient coin collecting" for educational videos on this topic.
Listing Information
| | |
| --- | --- |
| Listing Type | Gallery Listing |
| Listing ID# | 155226555 |
| Start Time | Wed 01 Mar 2017 18:05:25 (EST) |
| Close Time | Thu 12 Oct 2017 11:39:05 (EST) |
| Starting Bid | Fixed Price (no bidding) |
| Item Condition | See Descr. |
| Bids | 0 |
| Views | 1 |
| Dispatch Time | Next Day |
| Quantity | 1 |
| Location | United States |
| Auto Extend | No |
Purchase Activity
Username
Time & Date
Amount
No Bids as of Yet

This is a single item listing. If an auction is running, the winning bidder will be the highest bidder.