LEO I the Thracian & Wife Verina 457AD Nummus Genuine Ancient Roman Coin i59661
Listing Ended. This listing from
ZlobinCoins
[
+14714
] ended on Thu 12 Oct 2017 11:39:06 (EST). If you were involved in this then you can
click here
to login and view it within My eBid. To see more items from this seller
click here
. Public bidding/purchase history
can be seen below
.
Condition : See Descr.
Dispatch : Next Day
Barcode :

None

Brand : Ilya Zlobin
Start : Wed 01 Mar 2017 18:05:44 (EST)
Close : Thu 12 Oct 2017 11:39:06 (EST)
Remain :

Listing Closed


Domestic Shipping to
United States

for
1
item(s)
edit
Not Known = $4.50
Add a video to your auctions, just type in the YouTube video id when listing on eBid.
Seller's Description
Item: i59661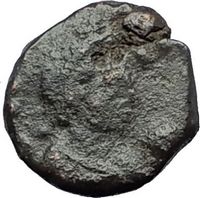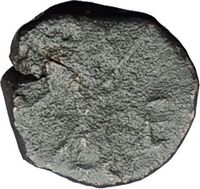 Authentic Ancient Coin of:
Leo I 'the Thracian' - Roman Emperor: 457-474 A.D.
Bronze Nummus / AE4 9mm (1.09 grams)
Reference: RIC 713-718
DN LEO PERPET, Diademed, draped and cuirassed bust right.
Verina standing, facing, holding cross on globe and scepter; b E across fields.
You are bidding on the exact item pictured, provided with a Certificate of Authenticity and Lifetime Guarantee of Authenticity.
---
Leo I (Latin: Flavius Valerius Leo Augustus; 401 – 18 January 474) was Eastern Roman Emperor from 457 to 474. A native of Dacia Aureliana near historic Thrace, he was known as Leo the Thracian (Greek: Λέων Α' ὁ Θρᾷξ Leōn ha ho Thrax).
Ruling the Eastern Empire for nearly 20 years, Leo proved to be a capable ruler. He oversaw many ambitious political and military plans, aimed mostly for the aid of the faltering Western Roman Empire and recovering its former territories. He is notable for being the first Eastern Emperor to legislate in Greek rather than Latin.
He is commemorated as a Saint in the Orthodox Church, with his feast day on January 20.
Reign
He was born Leo Marcellus in Thracia or in Dacia Aureliana province in the year 401 to a Thraco-Roman family. His Dacian origin is mentioned by Candidus Isaurus, while John Malalas believes that he was of Bessian stock. He served in the Roman army, rising to the rank of comes. Leo was the last of a series of emperors placed on the throne by Aspar, the Alan serving as commander-in-chief of the army, who thought Leo would be an easy puppet ruler. Instead, Leo became more and more independent from Aspar, causing tension that would culminate in the assassination of the latter.
Leo's coronation as emperor on 7 February 457, was the first known to involve the Patriarch of Constantinople. Leo I made an alliance with the Isaurians and was thus able to eliminate Aspar. The price of the alliance was the marriage of Leo's daughter to Tarasicodissa, leader of the Isaurians who, as Zeno, became emperor in 474. In 469, Aspar attempted to assassinate Zeno and very nearly succeeded. Finally, in 471, Aspar's son Ardabur was implicated in a plot against Leo and Ardabur was killed by palace eunuchs acting on Leo's orders.
Leo overestimated his capacities and he made some errors that menaced the internal order of the Empire. The Balkans were ravaged by the Ostrogoths, after a disagreement between the Emperor and the young chief Theodoric the Great who had been raised at Leo's court in Constantinople, where he was steeped in Roman government and military tactics. There were also some raids by the Huns. However, these attackers were unable to take Constantinople thanks to the walls, which had been rebuilt and reinforced in the reign of Theodosius II and against which they possessed no suitable siege engines.
Leo's reign was also noteworthy for his influence in the Western Roman EmpireeAnthemius as Western Roman Emperor in 467. He attempted to build on this political achievement with an expedition against the Vandals in 468, which was defeated due to the arrogance of Leo's brother-in-law Basiliscus. This disaster drained the Empire of men and money. The expedition, which cost 130,000 pounds of gold and 700 pounds of silver, consisted of 1,113 ships carrying 100,000 men, but in the end lost 600 ships. After this defeat, Vandals raided Greek coasts until a costly peace agreement was signed between Leo and Genseric.
Leo became very unpopular in his last days as Emperor for abolishing any non-religious celebration or event on Sundays.
Leo died of dysentery at the age of 73 on 18 January 474.
Marriage and children
Marcian (reigned 450 – 457). Ariadne had a younger sister, Leontia. Leontia was first betrothed to Patricius, a son of Aspar, but their engagement was probably annulled when Aspar and another of his sons, Ardabur, were assassinated in 471. Leontia then married Marcian, a son of Emperor Anthemius and Marcia Euphemia. The couple led a failed revolt against Zeno in 478–479. They were exiled to Isauria following their defeat.

An unknown son was born in 463. He died five months following his birth. The only sources about him are a horoscope by Rhetorius and a hagiography of Daniel the Stylite.

The Georgian Chronicle, a 13th-century compilation drawing from earlier sources, reports a marriage of Vakhtang I of Iberia Cyril Toumanoff identified two children of this marriage: Mithridates of Iberia; and Leo of Iberia. This younger Leo was father of Guaram I of Iberia. The accuracy of the descent is unknown..
Church of St. Mary of the Spring (Istanbul)
Life-giving Spring
List of Byzantine emperors
---
Frequently Asked Questions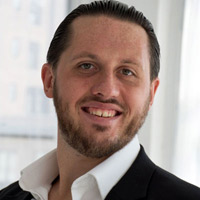 Mr. Ilya Zlobin, world-renowned expert numismatist, enthusiast, author and dealer in authentic ancient Greek, ancient Roman, ancient Byzantine, world coins & more.
Who am I dealing with?
You are dealing with Ilya Zlobin, ancient coin expert, enthusiast, author and dealer with an online store having a selection of over 15,000 items with great positive feedback from verified buyers and over 10 years experience dealing with over 57,000 ancient and world coins and artifacts. Ilya Zlobin is an independent individual who has a passion for coin collecting, research and understanding the importance of the historical context and significance all coins and objects represent. Most others are only concerned with selling you, Ilya Zlobin is most interested in educating you on the subject, and providing the largest selection, most professional presentation and service for the best long-term value for collectors worldwide creating returning patrons sharing in the passion of ancient and world coin collecting for a lifetime.
How long until my order is shipped?
Orders are shipped by the next business day (after receipt of payment) most of the time.
How will I know when the order was shipped?
After your order has shipped, you will be left positive feedback, and that date could be used as a basis of estimating an arrival date. Any tracking number would be found under your 'Purchase history' tab.

USPS First Class mail takes about 3-5 business days to arrive in the U.S. International shipping times cannot be estimated as they vary from country to country.

Standard international mail to many countries does not include a tracking number, and can also be slow sometimes. For a tracking number and signature confirmation, you may want to do Express Mail International Shipping, which costs more, however, is the fastest and most secure. Additionally you may be able to receive your order in as little as 3-5 business days using this method. For Express Mail International, it may be possible to place up to 10-15 items in one package (for the one shipping cost) as it is flat rate envelope, which may be the most cost-effective, secure and fastest way to receive items internationally. Send me a message about this and I can update your invoice should you want this method.

Getting your order to you, quickly and securely is a top priority and is taken seriously here. Great care is taken in packaging and mailing every item securely and quickly.

Please be aware, I cannot take responsibility for any postal service delivery delays, especially for international packages as it may happen in rare instances.
What is a certificate of authenticity and what guarantees do you give that the item is authentic?
Each of the items sold here, is provided with a Certificate of Authenticity, and a Lifetime Guarantee of Authenticity, issued by a world-renowned numismatic and antique expert that has identified over 57,000 ancient coins and has provided them with the same guarantee. You will be very happy with what you get with the COA; a professional presentation of the coin, with all of the relevant information and a picture of the coin you saw in the listing. Additionally, the coin is inside it's own protective coin flip (holder), with a 2x2 inch description of the coin matching the individual number on the COA.

On the free-market such a presentation alone, can be considered a $25-$50 value all in itself, and it comes standard with your purchases from me, FREE. With every purchase, you are leveraging my many years of experience to get a more complete context and understanding of the piece of history you are getting. Whether your goal is to collect or give the item as a gift, coins presented like this could be more prized and valued higher than items that were not given such care and attention to.

Buy a coin today and own a piece of history, guaranteed.
Is there a money back guarantee?
I offer a 30 day unconditional money back guarantee. I stand behind my coins and would be willing to exchange your order for either store credit towards other coins, or refund, minus shipping expenses, within 30 days from the receipt of your order. My goal is to have the returning customers for a lifetime, and I am so sure in my coins, their authenticity, numismatic value and beauty, I can offer such a guarantee.
Is there a number I can call you with questions about my order?
You can contact me directly via ask seller a question and request my telephone number, or go to my About Me Page to get my contact information only in regards to items purchased on .
When should I leave feedback?
Once you receive your order, please leave a positive feedback. Please don't leave any negative feedbacks, as it happens sometimes that people rush to leave feedback before letting sufficient time for their order to arrive. Also, if you sent an email, make sure to check for my reply in your messages before claiming that you didn't receive a response. The matter of fact is that any issues can be resolved, as reputation is most important to me. My goal is to provide superior products and quality of service.
How and where do I learn more about collecting ancient coins?
Visit the "Guide on How to Use My Store" for on an overview about using my store, with additional information and links to all other parts of my store which may include educational information on topics you are looking for.

You may also want to do a YouTube search for the term "ancient coin collecting" for educational videos on this topic.
Listing Information
| | |
| --- | --- |
| Listing Type | Gallery Listing |
| Listing ID# | 155226567 |
| Start Time | Wed 01 Mar 2017 18:05:44 (EST) |
| Close Time | Thu 12 Oct 2017 11:39:06 (EST) |
| Starting Bid | Fixed Price (no bidding) |
| Item Condition | See Descr. |
| Bids | 0 |
| Views | 1 |
| Dispatch Time | Next Day |
| Quantity | 1 |
| Location | United States |
| Auto Extend | No |
Purchase Activity
Username
Time & Date
Amount
No Bids as of Yet

This is a single item listing. If an auction is running, the winning bidder will be the highest bidder.