KLAZOMENAI in IONIA 380BC Apollo Swan Authentic Ancient Greek Coin Rare i59665
Listing Ended. This listing from
ZlobinCoins
[
+14714
] ended on Thu 12 Oct 2017 11:39:06 (EST). If you were involved in this then you can
click here
to login and view it within My eBid. To see more items from this seller
click here
. Public bidding/purchase history
can be seen below
.
Condition : See Descr.
Dispatch : Next Day
Barcode :

None

Brand : Ilya Zlobin
Start : Wed 01 Mar 2017 18:05:50 (EST)
Close : Thu 12 Oct 2017 11:39:06 (EST)
Remain :

Listing Closed


Domestic Shipping to
United States

for
1
item(s)
edit
Not Known = $4.50
Add a video to your auctions, just type in the YouTube video id when listing on eBid.
Seller's Description
Item: i59665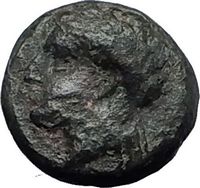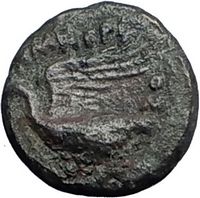 Authentic Ancient Coin of:
Greek city of Klazomenai in Ionia
Bronze 10mm (1.16 grams) Struck circa 380-360 B.C.
Reference: Cf. Lindgren & Kovacs 436 (magistrate and symbol).
Laureate head of Apollo left.
Swan standing left, with wings spread; uncertain magistrate's name above.
Situated on the southern shores of the Gulf of Smyrna, Klazomenai was the birthplace of the philosopher Anaxagoras.
You are bidding on the exact item pictured, provided with a Certificate of Authenticity and Lifetime Guarantee of Authenticity.
---
---
In Greek and Roman mythology, Apollo, is one of the most important and diverse of the Olympian deities. The ideal of the kouros (a beardless youth), Apollo has been variously recognized as a god of light and the sun; truth and prophecy; archery; medicine and healing; music, poetry, and the arts; and more. Apollo is the son of Zeus and Leto, and has a twin sister, the chaste huntress Artemis. Apollo is known in Greek-influenced Etruscan mythology as Apulu. Apollo was worshiped in both ancient Greek and Roman religion, as well as in the modern Greco-Roman Neopaganism.
As the patron of Delphi (Pythian Apollo), Apollo was an oracular god — the prophetic deity of the Delphic Oracle. Medicine and healing were associated with Apollo, whether through the god himself or mediated through his son Asclepius, yet Apollo was also seen as a god who could bring ill-health and deadly plague as well as one who had the ability to cure. Amongst the god's custodial charges, Apollo became associated with dominion over colonists, and as the patron defender of herds and flocks. As the leader of the Muses (Apollon Musagetes) and director of their choir, Apollo functioned as the patron god of music and poetry. Hermes created the lyre for him, and the instrument became a common attribute of Apollo. Hymns sung to Apollo were called paeans.
In Hellenistic times, especially during the third century BCE, as Apollo Helios he became identified among Greeks with Helios, god of the sun, and his sister Artemis similarly equated with Selene, goddess of the moon. In Latin texts, on the other hand, Joseph Fontenrose declared himself unable to find any conflation of Apollo with Sol among the Augustan poets of the first century, not even in the conjurations of Aeneas and Latinus in Aeneid XII (161–215). Apollo and Helios/Sol remained separate beings in literary and mythological texts until the third century CE.
---
---
Klazomenai (also spelled Clazomenae, Greek: Κλαζομεναί, modern-day Kilizman in Urla near İzmir in Turkey) was an ancient Greek city of Ionia and a member of the Ionian Dodecapolis (Confederation of Twelve Cities), it was one of the first cities to issue silver coinage.
Klazomenai is located in modern Urla (Vourla in Greek) on the western coast of Anatolia, on the southern coast of the Gulf of İzmir, at about 20 miles west of İzmir. The city was originally located on the mainland, but probably during the early fifth-century Ionian Revolt from the Persians, it was moved to an island just off the coast, which Alexander the Great eventually connected to the mainland with a causeway. The location of the city-around a harbour, backed by a coastal plain and low hills to the south provided a number of locations for settlement, and as such, settlements did shift from location to location over time. This can be shown by the island of Karantina, located to the north of the settlement area-which became settled at certain points in the history of Klazomenai.
Mythology
The principal god of the city was Apollo. According to myth, swans drew the chariot in which Apollo every year flew south from his winter home in the land of the Hyperboreans. But Klazomenai was also home to large numbers of swans, and it is thought that the verb klazo was used to describe the call of the wild birds. The swan on the obverse is both an attribute of Apollo and a pun on the name Klazomenai.
Ancient times
Though not in existence before the arrival of the Ionians in Asia, its original founders were largely settlers from Phlius and Cleonae. It stood originally on the isthmus connecting the mainland with the peninsula on which Erythrae stood; but the inhabitants, alarmed by the encroachments of the Persians, removed to one of the small islands of the bay, and there established their city. This island was connected with the mainland by Alexander the Great by means of a pier, the remains of which are still visible.
During the 5th century it was for some time subject to the Athenians, but about the middle of the Peloponnesian War (412 BC) it revolted. After a brief resistance, however, it again acknowledged the Athenian supremacy, and repelled a Lacedaemonian attack. In 387 BC Klazomenai and other cities in Asia were taken over by Persia, but the city continued to issue its own coins.
Under the Romans Clazomenae was included in the province of Asia, and enjoyed an immunity from taxation.
Klazomenai is today perhaps best-known as the birthplace of the philosopher Anaxagoras, often styled "Anaxagoras of Clazomenae".
Archaeology
The site of Liman Tepe, which lies near an old harbor contains very important Bronze Age excavations, the most prominent and remarkable of which is the amount of varying archaic burial sites, as well as evidence of the practises associated with them close by. One possible explanation for this is that these sites were used by different social groups within society.
The city was famous for production and exports of olive oil and its painted terracotta sarcophagi, which are the finest monuments of Ionian painting in the 6th century BC.
It was also prized for its variety of garum.
Ancient olive press
Olive oil extraction installation (işlik) dating back to the third quarter of the 6th century BC uncovered in Klazomenai is the only surviving example of a level and weights press from an ancient Greek city and precedes by at least two centuries the next securely datable earliest presses found in Greece. It was restored and reconstructed in 2004-2005 through collaboration between Ege University, a Turkish olive-oil exporter and a German natural building components company, as well as by local artisans, on the basis of the clearly visible millstone with a cylindrical roller and three separation pits. The olive oil obtained turned out to be quite a success in business terms as well.
Financial pioneers
In an event noted by Aristotle, Klazomenians also appear as financial pioneers in economic history, for having used one commodity (olive oil), in an organized manner and on a city-scale, to purchase another (wheat), with interests refundable on the value of the first. Around 350 B.C., suffering from a shortage of grain and scarcity of funds, the rulers of the city passed a resolution calling on citizens who had stores of olive oil to lend to the city at interest. The loan arranged, they hired vessels and sent them to ports of exportation of grain and bought a consignment on the pledged security of the value of the oil.
---
Frequently Asked Questions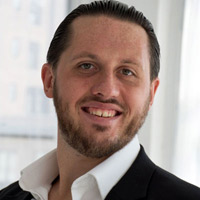 Mr. Ilya Zlobin, world-renowned expert numismatist, enthusiast, author and dealer in authentic ancient Greek, ancient Roman, ancient Byzantine, world coins & more.
Who am I dealing with?
You are dealing with Ilya Zlobin, ancient coin expert, enthusiast, author and dealer with an online store having a selection of over 15,000 items with great positive feedback from verified buyers and over 10 years experience dealing with over 57,000 ancient and world coins and artifacts. Ilya Zlobin is an independent individual who has a passion for coin collecting, research and understanding the importance of the historical context and significance all coins and objects represent. Most others are only concerned with selling you, Ilya Zlobin is most interested in educating you on the subject, and providing the largest selection, most professional presentation and service for the best long-term value for collectors worldwide creating returning patrons sharing in the passion of ancient and world coin collecting for a lifetime.
How long until my order is shipped?
Orders are shipped by the next business day (after receipt of payment) most of the time.
How will I know when the order was shipped?
After your order has shipped, you will be left positive feedback, and that date could be used as a basis of estimating an arrival date. Any tracking number would be found under your 'Purchase history' tab.

USPS First Class mail takes about 3-5 business days to arrive in the U.S. International shipping times cannot be estimated as they vary from country to country.

Standard international mail to many countries does not include a tracking number, and can also be slow sometimes. For a tracking number and signature confirmation, you may want to do Express Mail International Shipping, which costs more, however, is the fastest and most secure. Additionally you may be able to receive your order in as little as 3-5 business days using this method. For Express Mail International, it may be possible to place up to 10-15 items in one package (for the one shipping cost) as it is flat rate envelope, which may be the most cost-effective, secure and fastest way to receive items internationally. Send me a message about this and I can update your invoice should you want this method.

Getting your order to you, quickly and securely is a top priority and is taken seriously here. Great care is taken in packaging and mailing every item securely and quickly.

Please be aware, I cannot take responsibility for any postal service delivery delays, especially for international packages as it may happen in rare instances.
What is a certificate of authenticity and what guarantees do you give that the item is authentic?
Each of the items sold here, is provided with a Certificate of Authenticity, and a Lifetime Guarantee of Authenticity, issued by a world-renowned numismatic and antique expert that has identified over 57,000 ancient coins and has provided them with the same guarantee. You will be very happy with what you get with the COA; a professional presentation of the coin, with all of the relevant information and a picture of the coin you saw in the listing. Additionally, the coin is inside it's own protective coin flip (holder), with a 2x2 inch description of the coin matching the individual number on the COA.

On the free-market such a presentation alone, can be considered a $25-$50 value all in itself, and it comes standard with your purchases from me, FREE. With every purchase, you are leveraging my many years of experience to get a more complete context and understanding of the piece of history you are getting. Whether your goal is to collect or give the item as a gift, coins presented like this could be more prized and valued higher than items that were not given such care and attention to.

Buy a coin today and own a piece of history, guaranteed.
Is there a money back guarantee?
I offer a 30 day unconditional money back guarantee. I stand behind my coins and would be willing to exchange your order for either store credit towards other coins, or refund, minus shipping expenses, within 30 days from the receipt of your order. My goal is to have the returning customers for a lifetime, and I am so sure in my coins, their authenticity, numismatic value and beauty, I can offer such a guarantee.
Is there a number I can call you with questions about my order?
You can contact me directly via ask seller a question and request my telephone number, or go to my About Me Page to get my contact information only in regards to items purchased on .
When should I leave feedback?
Once you receive your order, please leave a positive feedback. Please don't leave any negative feedbacks, as it happens sometimes that people rush to leave feedback before letting sufficient time for their order to arrive. Also, if you sent an email, make sure to check for my reply in your messages before claiming that you didn't receive a response. The matter of fact is that any issues can be resolved, as reputation is most important to me. My goal is to provide superior products and quality of service.
How and where do I learn more about collecting ancient coins?
Visit the "Guide on How to Use My Store" for on an overview about using my store, with additional information and links to all other parts of my store which may include educational information on topics you are looking for.

You may also want to do a YouTube search for the term "ancient coin collecting" for educational videos on this topic.
Listing Information
| | |
| --- | --- |
| Listing Type | Gallery Listing |
| Listing ID# | 155226570 |
| Start Time | Wed 01 Mar 2017 18:05:50 (EST) |
| Close Time | Thu 12 Oct 2017 11:39:06 (EST) |
| Starting Bid | Fixed Price (no bidding) |
| Item Condition | See Descr. |
| Bids | 0 |
| Views | 1 |
| Dispatch Time | Next Day |
| Quantity | 1 |
| Location | United States |
| Auto Extend | No |
Purchase Activity
Username
Time & Date
Amount
No Bids as of Yet

This is a single item listing. If an auction is running, the winning bidder will be the highest bidder.