Agrippa I King of Judaea 41AD Biblical Roman Jerusalem Coin of CLAUDIUS i54237
Listing Ended. This listing from
ZlobinCoins
[
+14714
] ended on Sun 13 Aug 2017 07:45:34 (EST). If you were involved in this then you can
click here
to login and view it within My eBid. To see more items from this seller
click here
. Public bidding/purchase history
can be seen below
.
Condition : See Descr.
Dispatch : Next Day
Barcode :

None

Brand : Ilya Zlobin
Start : Wed 01 Mar 2017 16:14:35 (EST)
Close : Sun 13 Aug 2017 07:45:34 (EST)
Remain :

Listing Closed


Domestic Shipping to
United States

for
1
item(s)
edit
Not Known = $4.50
Add a video to your auctions, just type in the YouTube video id when listing on eBid.
Seller's Description
Item: i54237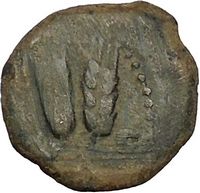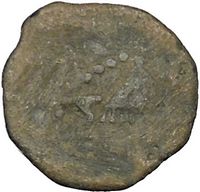 Authentic Ancient Coin of:
Agrippa I - King of Judaea: 37-44 A.D.
Bronze 'Prutah' 17mm (2.50 grams)
Struck in the Jerusalem mint Year 6, 41/42 A.D. during the time of Emperor Claudius
Reference: Hendin 1244 (5th edition); Hendin 553 (3rd Edition)
L S (year 6) flanking three ears of barley. (Symbol of fertility of the land.).
Umbrella-like canopy with fringes, Greek legend, BACIΛEWC AΓPIΠΑ "of King Agrippa" around.
(The Umbrella like canopy is attributed as being a symbol of power.)
Evidence points out that this coin was struck by Agrippa I for areas populated largely by the Jewish people of Judaea.
You are bidding on the exact item pictured, provided with a Certificate of Authenticity and Lifetime Guarantee of Authenticity.
A baldachin, or baldaquin (from Italian: baldacchino), is a canopy of state over an altar or throne. It had its beginnings as a cloth canopy, but in other cases it is a sturdy, permanent architectural feature, particularly over high altars in cathedrals, where such a structure is more correctly called a ciborium when it is sufficiently architectural in form. A cloth of honour is a simpler cloth hanging vertically behind the throne, which may be combined with a canopy.
---
Agrippa I also called the Great (10 BC - 44 AD), King of the Jews, was the grandson of Herod the Great, and son of Aristobulus IV and Berenice. His original name was Marcus Julius Agrippa, and he is the king named Herod in the Acts of the Apostles, in the Bible, "Herod (Agrippa)" (Ἡρώδης Ἀγρίππας). He was, according to Josephus, known in his time as "Agrippa the Great".
Life
Josephus informs us that, after the murder of his father, young Agrippa was sent by Herod the Great to the imperial court in Rome. There, Tiberius conceived a great affection for him, and had him educated alongside his son Drusus, who also befriended him, and future emperor Claudius. On the death of Drusus, Agrippa, who had been recklessly extravagant and was deeply in debt, was obliged to leave Rome, fleeing to the fortress of Malatha in Idumaea. There, it was said, he contemplated suicide.
After a brief seclusion, through the mediation of his wife Cypros and his sister Herodias, Agrippa was given a sum of money by his uncle, Herodias' husband, Herod Antipas, Tetrarch of Galilee and Perea, and was allowed to take up residence in Tiberias, and received the rank of aedile in that city, with a small yearly income. But having quarrelled with his brother-in-law, he fled to Flaccus, proconsul of Syria. Soon afterwards he was convicted, through the information of his brother Aristobulus, of having received a bribe from the Damascenes, who wished to purchase his influence with the proconsul, and was again compelled to flee. He was arrested as he was about to sail for Italy, for a sum of money which he owed to the treasury of Caesar, but made his escape, and reached Alexandria, where his wife succeeded in procuring a supply of money from Alexander the Alabarch. He then set sail, and landed at Puteoli. He was favorably received by Tiberius, who entrusted him with the education of his grandson Tiberius Gemellus. He also formed an intimacy with Caligula, then a popular favorite. Agrippa was one day overheard by his freedman Eutyches expressing a wish for Tiberius' death and the advancement of Caligula, and for this he was cast into prison.
Caligula and Claudius
Following Tiberius' death and the ascension of Agrippa's friend Caligula, Agrippa was set free and made governor first of the territories of Batanaea and Trachonitis that his cousin Herod II had held, then of the tetrarchy of Lysanias, with the title of "king". Caligula also presented him with a golden chain of a weight equal to the iron one he had worn in prison. In 39 AD, Agrippa returned to Rome, and brought about the banishment of his uncle, Herod Antipas, whose tetrarchy over Galilee and Peraea he then was granted.
On the assassination of Caligula in 41, Agrippa's advice helped to secure Claudius' accession as emperor, while he made a show of being in the interest of the senate. As a reward for his assistance, Claudius gave Agrippa dominion over Judea and Samaria, while the kingdom of Chalcis in Lebanon was at his request given to his brother Herod III. Thus Agrippa became one of the most powerful princes of the east; the territory he possessed exceeded that which was held by his grandfather Herod the Great.
In the city of Berytus he built a theatre and amphitheatre, baths, and porticoes. He expressed similar magnanimity in Sebaste, Heliopolis and Caesarea. The suspicions of Claudius prevented him from finishing the fortifications with which he had begun to surround Jerusalem. His friendship was courted by many of the neighboring kings and rulers, some of whom he housed in Tiberias, which also caused Claudius some displeasure.
Reign and death
Account in Josephus
He returned to Judea and governed it to the satisfaction of the Jews. His zeal, private and public, for Judaism is recorded by Josephus and the rabbis. Perhaps because of this, his passage through Alexandria around 40 instigated anti-Jewish riots. At the risk of his own life, or at least of his liberty, he interceded with Caligula on behalf of the Jews, when that emperor was attempting to set up his statue in the temple at Jerusalem shortly before his death in 41.
After Passover in 44, Agrippa went to Caesarea, where he had games performed in honor of Claudius. In the midst of his elation Agrippa saw an owl perched over his head. During his imprisonment by Tiberius a similar omen had been interpreted as portending his speedy release, with the warning that should he behold the same sight again, he would die within five days. He was immediately smitten with violent pains, and scolded his friends for flattering him and accepting his imminent death. He experienced heart pains and a pain in his abdomen, and died after five days. Acts 12 relates that he was eaten by worms, (possibly Fournier's gangrene, the same disease that may have killed his grandfather Herod the Great) after God struck him after people praised him and treated him like a God.
Josephus then relates how Aggripa's brother, Herod of Chalcis, and Helcias send Aristo to kill Silas.
Account in the New Testament
"King Herod", mentioned in the Bible's Acts of the Apostles, is often identified as the same person as King Agrippa I. The identification is based on the description of his death, which is sufficiently reminiscent to Agrippa's death in Josephus' work, although Josephus does not verify the Bible's claims that "an angel of the Lord struck him down, and he was eaten by worms and died." The fact that the Bible knows the king by a different name led apologetic Bible historians to rename him as "Herod Agrippa". However, it must be noted that "Herod" was the name of Agrippa's brother, King of Chalcis and High Priest of Jerusalem, so the king described in the Bible may as well be an amalgam of several different royals.
Description of King Herod as a cruel, godless king that persecuted the Jerusalem church, had James son of Zebedee killed and imprisoned Peter, is in stark contrast with the Josephus account.
Herod Antipas, uncle and predecessor to Agrippa I, is the Herod mentioned in the New Testament that played a role in events that led to the execution of Jesus and that authorized John the Baptist's execution.
Progeny
By his wife Cypros he had a son, Agrippa II, and three daughters, including Berenice, who first married her uncle Herod III, king of Chalcis, and afterwards lived with her brother Agrippa, and subsequently married Polamo, king of Cilicia; she is alluded to by Juvenal; Mariamne, and Drusilla, who married Antonius Felix, the procurator of Judaea.
Judea ( Latin: IVDAEA), sometimes spelled in its original Latin forms of Judæa, Judaea or Iudaea to distinguish it from Judea proper, is a term used by historians to refer to the Roman province that incorporated the geographical regions of Judea, Samaria, and Idumea, and which extended over parts of the former regions of the Hasmonean and Herodian kingdoms of Israel. It was named after Herod Archelaus's Tetrarchy of Judea, of which it was an expansion, the latter name deriving from the Kingdom of Judah of the 6th century BCE.
Rome's involvement in the area dated from 63 BCE, following the end of the Third Mithridatic War, when Rome made Syria a province. In that year, after the defeat of Mithridates VI of Pontus, the proconsul Pompeius Magnus (Pompey the Great) sacked Jerusalem and entered the Jerusalem Temple. Subsequently, during the 1st century BCE, the Herodian Kingdom was established as a Roman client kingdom and then in 6 CE parts became a province of the Roman Empire.
Census of Quirinius and several wars were fought in its history, known as the Jewish-Roman wars. The Temple was destroyed in 70 as part of the Great Jewish Revolt resulting in the institution of the Fiscus Judaicus, and after Bar Kokhba's revolt (132–135 CE), the Roman Emperor Hadrian changed the name of the province to Syria Palaestina and Jerusalem to Aelia Capitolina, which certain scholars conclude was done in an attempt to remove the relationship of the Jewish people to the region..
Relations with Hasmonean and Herodian dynasties
Frequently Asked Questionss
How long until my order is shipped?
Depending on the volume of sales, it may take up to 5 business days for shipment of your order after the receipt of payment.
How will I know when the order was shipped?
After your order has shipped, you will be left positive feedback, and that date should be used as a basis of estimating an arrival date.
After you shipped the order, how long will the mail take?
USPS First Class mail takes about 3-5 business days to arrive in the U.S., international shipping times cannot be estimated as they vary from country to country. I am not responsible for any USPS delivery delays, especially for an international package.
What is a certificate of authenticity and what guarantees do you give that the item is authentic?
Each of the items sold here, is provided with a Certificate of Authenticity, and a Lifetime Guarantee of Authenticity, issued by a world-renowned numismatic and antique expert that has identified over 10000 ancient coins and has provided them with the same guarantee. You will be quite happy with what you get with the COA; a professional presentation of the coin, with all of the relevant information and a picture of the coin you saw in the listing.
Compared to other certification companies, the certificate of authenticity is a $25-50 value. So buy a coin today and own a piece of history, guaranteed.
Is there a money back guarantee?
I offer a 30 day unconditional money back guarantee. I stand behind my coins and would be willing to exchange your order for either store credit towards other coins, or refund, minus shipping expenses, within 30 days from the receipt of your order. My goal is to have the returning customers for a lifetime, and I am so sure in my coins, their authenticity, numismatic value and beauty, I can offer such a guarantee.
Is there a number I can call you with questions about my order?
You can contact me directly via ask seller a question and request my telephone number, or go to my About Me Page to get my contact information only in regards to items purchased on .
When should I leave feedback?
Once you receive your order, please leave a positive. Please don't leave any negative feedbacks, as it happens many times that people rush to leave feedback before letting sufficient time for the order to arrive. Also, if you sent an email, make sure to check for my reply in your messages before claiming that you didn't receive a response. The matter of fact is that any issues can be resolved, as reputation is most important to me. My goal is to provide superior products and quality of service.
Listing Information
| | |
| --- | --- |
| Listing Type | Gallery Listing |
| Listing ID# | 155222884 |
| Start Time | Wed 01 Mar 2017 16:14:35 (EST) |
| Close Time | Sun 13 Aug 2017 07:45:34 (EST) |
| Starting Bid | Fixed Price (no bidding) |
| Item Condition | See Descr. |
| Bids | 0 |
| Views | 1 |
| Dispatch Time | Next Day |
| Quantity | 1 |
| Location | United States |
| Auto Extend | No |
Purchase Activity
Username
Time & Date
Amount
No Bids as of Yet

This is a single item listing. If an auction is running, the winning bidder will be the highest bidder.