1961 Italy Christopher Columbus Ships Queen Isabella of Spain Silver Coin i53783
Listing Ended. This listing from
ZlobinCoins
[
+14714
] ended on Thu 12 Oct 2017 11:37:49 (EST). If you were involved in this then you can
click here
to login and view it within My eBid. To see more items from this seller
click here
. Public bidding/purchase history
can be seen below
.
Condition : See Descr.
Dispatch : Next Day
Barcode :

None

Brand : Ilya Zlobin
Start : Wed 01 Mar 2017 16:14:56 (EST)
Close : Thu 12 Oct 2017 11:37:49 (EST)
Remain :

Listing Closed


Domestic Shipping to
United States

for
1
item(s)
edit
Not Known = $4.50
Add a video to your auctions, just type in the YouTube video id when listing on eBid.
Seller's Description
Item: i53783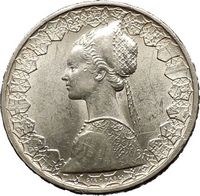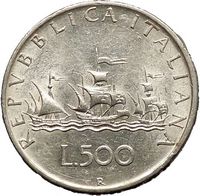 Authentic Coin of:
Italy
1961 Silver 500 Lire 29mm (11.03 grams) 0.835 silver (0.2934 oz. ASW)
Reference: KM #98 Obverse Designer: Guido Veroi Reverse Designer: Pietro Giampaoli
Bust of Queen Isabella of Spain left surrounded by shields.
REPUBLICA ITALIA L. 500, The ships of Columbus sailing right.
Edge Lettering: REPUBLICA ITALIANA 1961
Christopher Columbus, an Italian got financing from Queen Isabella of Spain to go to the New World.
You are bidding on the exact item pictured, provided with a Certificate of Authenticity and Lifetime Guarantee of Authenticity.
Christopher Columbus (/kəˈlʌmbəs/; Italian: Cristoforo Colombo; Spanish: Cristóbal Colón; Portuguese: Cristóvão Colombo; born between 31 October 1450 and 30 October 1451, Genoa; died 20 May 1506, Valladolid) was an Italian explorer, navigator, colonizer and citizen of the Republic of Genoa. Under the auspices of the Catholic Monarchs of Spain, he completed four voyages across the Atlantic Ocean. Those voyages, and his efforts to establish permanent settlements on the island of Hispaniola, initiated the Spanish colonization of the New World.
In the context of emerging Western imperialism and economic competition between European kingdoms through the establishment of trade routes and colonies, Columbus' proposal to reach the East Indies by sailing westward eventually received the support of the Spanish Crown, which saw in it a chance to enter the spice trade with Asia through a new westward route. During his first voyage in 1492, instead of arriving at Japan as he had intended, Columbus reached the New World, landing on an island in the Bahamas archipelago that he named "San Salvador". Over the course of three more voyages, Columbus visited the Greater and Lesser Antilles, as well as the Caribbean coast of Venezuela and Central America, claiming all of it for the Crown of Castile.
Though Columbus was not the first European explorer to reach the Americas (having been preceded by the Norse expedition led by Leif Ericson in the 11th century), his voyages led to the first lasting European contact with the Americas, inaugurating a period of European exploration, conquest, and colonization that lasted for several centuries. These voyages had, therefore, an enormous impact in the historical development of the modern Western world. Columbus spearheaded the transatlantic slave trade and has been accused by several historians of initiating the genocide of the Hispaniola natives. Columbus himself saw his accomplishments primarily in the light of spreading the Christian religion.
Never admitting that he had reached a continent previously unknown to Europeans rather than the East Indies he had set out for, Columbus called the inhabitants of the lands he visited indios (Spanish for "Indians"). Columbus' strained relationship with the Spanish crown and its appointed colonial administrators in America led to his arrest and dismissal as governor of the settlements on the island of Hispaniola in 1500 and later to protracted litigation over the benefits which Columbus and his heirs claimed were owed to them by the crown.
---
Isabella I (Spanish: Isabel I, Old Spanish: Ysabel I; Madrigal de las Altas Torres, 22 April 1451–Medina del Campo, 26 November 1504) was Queen of Castille. She was married to Ferdinand II of Aragon. Their marriage became the basis for the political unification of Spain under their grandson, Holy Roman Emperor Charles V. After a struggle to claim her right to the throne, she reorganized the governmental system, brought the crime rate to the lowest it had been in years, and unburdened the kingdom of the enormous debt her brother had left behind. Her reforms and those she made with her husband had an influence that extended well beyond the borders of their united kingdoms. Isabella and Ferdinand are known for completing the Reconquista, ordering conversion or exile of their Muslim and Jewish subjects in the Spanish Inquisition, and for supporting and financing Christopher Columbus's 1492 voyage that led to the opening of the New World and to the establishment of Spain as the first global power who dominated Europe and much of the world for more than a century. Isabella was granted the title Servant of God by the Catholic Church in 1974.
---
Italy, officially the Italian Republic (Italian: Repubblica Italiana), is a unitary parliamentary republic in Europe. Italy covers an area of 301,338 km2 (116,347 sq mi) and has a largely temperate climate; due to its shape, it is often referred to in Italy as lo Stivale (the Boot). With 61 million inhabitants, it is the 4th most populous EU member state. Located in the heart of the Mediterranean Sea, Italy shares open land borders with France, Switzerland, Austria, Slovenia, San Marino and Vatican City.
Since ancient times, Greek, Etruscan, Celtic, and other cultures have thrived on the Italian Peninsula. Rome ultimately emerged as the dominant power, conquering much of the ancient world and becoming the leading cultural, political, and religious centre of Western civilisation. During the Dark Ages, the region suffered sociopolitical collapse amid calamitous barbarian invasions, but by the 11th century, numerous Italian city-states rose to great prosperity through shipping, commerce and banking, and even laid the groundwork for capitalism. The Renaissance led to a flourishing of Italian culture, producing famous scholars, artists, and polymaths such as Leonardo da Vinci, Galileo, Michelangelo and Machiavelli. Italian explorers such as Marco Polo, Christopher Columbus, Amerigo Vespucci, and Giovanni da Verrazzano discovered new routes to the Far East and the New World, helping to usher in the European Age of Discovery. Nevertheless, Italy remained politically fragmented and fell prey to European powers such as France, Spain, and later Austria, subsequently entering a long period of decline that lasted until the mid-19th century.
After various unsuccessful attempts, the second and the third wars for Italian independence resulted in the eventual unification of most of present-day Italy by 1866. From the late 19th century to the early 20th century, the new Kingdom of Italy rapidly industrialised and acquired a colonial empire, becoming a great power. However, southern and rural areas of the country remained largely excluded from industrialisation, fuelling a large and influential diaspora. Despite being one of the main victors in World War I, Italy entered a period of economic crisis and social turmoil, leading the way to the rise of a Fascist dictatorship in 1922. The subsequent participation in World War II on the Axis side ended in military defeat, economic destruction and civil war. In the years that followed, Italy abolished the monarchy, reinstated democracy, and enjoyed a prolonged economic boom, thus becoming one of the world's most developed nations.
Italy has the third largest economy in the Eurozone and the eighth largest economy in the world. It has a very high level of human development and enjoys the highest life expectancy in the EU. Italy plays a prominent role in global military, cultural and diplomatic affairs and is also considered to be a major regional power in Europe. Italy is a founding and leading member of the European Union and the member of numerous international institutions, including the UN, NATO, the OECD, the OSCE, the WTO, the G7/G8, G20, the Union for the Mediterranean, the Council of Europe, Uniting for Consensus, and many more. As a reflection of its vast cultural wealth, Italy is home to 51 World Heritage Sites, the most in the world, and is one of the most visited countries.
---
Frequently Asked Questions
How long until my order is shipped?
Depending on the volume of sales, it may take up to 5 business days for shipment of your order after the receipt of payment.
How will I know when the order was shipped?
After your order has shipped, you will be left positive feedback, and that date should be used as a basis of estimating an arrival date.
After you shipped the order, how long will the mail take?
USPS First Class mail takes about 3-5 business days to arrive in the U.S., international shipping times cannot be estimated as they vary from country to country. I am not responsible for any USPS delivery delays, especially for an international package.
What is a certificate of authenticity and what guarantees do you give that the item is authentic?
Each of the items sold here, is provided with a Certificate of Authenticity, and a Lifetime Guarantee of Authenticity, issued by a world-renowned numismatic and antique expert that has identified over 10000 ancient coins and has provided them with the same guarantee. You will be quite happy with what you get with the COA; a professional presentation of the coin, with all of the relevant information and a picture of the coin you saw in the listing.
Compared to other certification companies, the certificate of authenticity is a $25-50 value. So buy a coin today and own a piece of history, guaranteed.
Is there a money back guarantee?
I offer a 30 day unconditional money back guarantee. I stand behind my coins and would be willing to exchange your order for either store credit towards other coins, or refund, minus shipping expenses, within 30 days from the receipt of your order. My goal is to have the returning customers for a lifetime, and I am so sure in my coins, their authenticity, numismatic value and beauty, I can offer such a guarantee.
Is there a number I can call you with questions about my order?
You can contact me directly via ask seller a question and request my telephone number, or go to my About Me Page to get my contact information only in regards to items purchased on .
When should I leave feedback?
Once you receive your order, please leave a positive. Please don't leave any negative feedbacks, as it happens many times that people rush to leave feedback before letting sufficient time for the order to arrive. Also, if you sent an email, make sure to check for my reply in your messages before claiming that you didn't receive a response. The matter of fact is that any issues can be resolved, as reputation is most important to me. My goal is to provide superior products and quality of service.
Listing Information
| | |
| --- | --- |
| Listing Type | Gallery Listing |
| Listing ID# | 155222896 |
| Start Time | Wed 01 Mar 2017 16:14:56 (EST) |
| Close Time | Thu 12 Oct 2017 11:37:49 (EST) |
| Starting Bid | Fixed Price (no bidding) |
| Item Condition | See Descr. |
| Bids | 0 |
| Views | 1 |
| Dispatch Time | Next Day |
| Quantity | 1 |
| Location | United States |
| Auto Extend | No |
Purchase Activity
Username
Time & Date
Amount
No Bids as of Yet

This is a single item listing. If an auction is running, the winning bidder will be the highest bidder.