1268AD MEDIEVAL Venice Doge LORENZO TIEPOLO Silver Ancient Coin w CHRIST i57572
Listing Ended. This listing from
ZlobinCoins
[
+14714
] ended on Thu 12 Oct 2017 11:38:36 (EST). If you were involved in this then you can
click here
to login and view it within My eBid. To see more items from this seller
click here
. Public bidding/purchase history
can be seen below
.
Condition : See Descr.
Dispatch : Next Day
Barcode :

None

Brand : Ilya Zlobin
Start : Wed 01 Mar 2017 17:21:43 (EST)
Close : Thu 12 Oct 2017 11:38:36 (EST)
Remain :

Listing Closed


Domestic Shipping to
United States

for
1
item(s)
edit
Not Known = $4.50
Add a video to your auctions, just type in the YouTube video id when listing on eBid.
Seller's Description
Item: i57572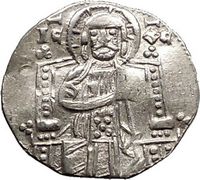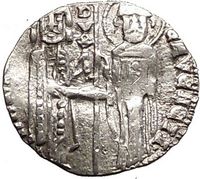 Authentic Ancient Coin of:
MEDIEVAL Venice - Lorenzo Tiepolo Doge of Venice - 1268-1275 A.D.
Silver Grosso 17mm (1.50 grams) Struck in Venice circa 1268-1275 A.D.
Christ enthroned, facing front; IC-XC above.
LA-TEVPL-SM-VENETO; Doge, on left, receiving tall flag from St. Mark on right;
DVX down flag staff.
For over a thousand years, the leader and head magistrate of the Venetian Empire (also known as "The Most Serene Republic of Venice" was the Doge. The title "Doge" is derived from the Latin word Dux, which eventually became Duce in Italy and Duke to the English. Venice's Doges were elected to their position by the city-state's aristocracy, and were expected to fulfill their position for life. The Doges of Venice minted an array of coinage, fluctuating from silver and gold in the earlier years of the Republic, to bronze in the latter. The last Doge of Venice was Ludovico Manin, who abdicated on May 12, 1797 upon the conquest of Napoleon.
You are bidding on the exact item pictured, provided with a Certificate of Authenticity and Lifetime Guarantee of Authenticity.

---
Lorenzo Tiepolo (died August 15, 1275) was Doge of Venice from 1268 until his death.
Born in Venice, Lorenzo Tiepolo was the son of Doge Jacopo Tiepolo. It is a matter of debate if his second wife,
Marguerite, was either the daughter of the King of Romania or of Bohemund of Brienne, ruler of Rascia. Tiepolo also demonstrated skill as commander when, during the War of Saint Sabas with Genoa, he defeated the Genoese at Acre in 1257. He served also as a podestà of Fano.
In 1268, after the death of Reniero Zeno, Lorenzo was elected as Doge on July 23 of that year, with 25 votes out of 41. Although beloved by the population, he attracted the hostility of the Venetian nobility for his nepotism towards his sons. The position of Cancellier Grande ("Great Chancellor") was therefore created to thwart such a behaviour.
In 1270, an important treaty of peace was signed with Genoa at Cremona, confirming the Venetian predominance in the Adriatic Sea; however, in that same year a war broke out between Venice and a league of Italian cities including Bologna, Treviso, Verona, Mantua, Ferrara, Cremona, Recanati, and Ancona due to commercial disputes. After an initial setback in 1271, the Venetians were able to regain the upper hand and the terms of peace were favourable to Venice.
Under his dogado, in 1273, Marco Polo began his journey to China. He was to return only in 1295.
Tiepolo died in Venice in 1275 and was buried with his father in the Dominican church of San Zanipolo.
---
The Doge of Venice (all derived from Latin dūx, "military leader"), sometimes translated as Duke (compare the Italian Duca), was the chief magistrate and leader of the Most Serene Republic of Venice for over 1,100 years (697-1797). Doges of Venice were elected for life by the city-state's aristocracy. Commonly the man selected as Doge was the shrewdest elder in the city. The doge was not a duke in the modern sense, nor was a doge the equivalent of a hereditary duke. The title "doge" was the title of the senior-most elected official of Venice and Genoa; both cities were republics and elected doges. A doge was referred to variously by the titles "My Lord the Doge" (Monsignor el Doxe), "Most Serene Prince" (Serenissimo Principe), and "His Serenity" (Sua Serenità).
---
Jesus (7–2 BC to AD 30–33), also referred to as Jesus of Nazareth or Jesus Christ, is the central figure of Christianity, whom the teachings of most Christian denominations hold to be the Son of God. Christians believe Jesus is the awaited Messiah (or Christ, the Anointed One) of the Old Testament.
Virtually all modern scholars of antiquity agree that Jesus existed historically, and historians consider the Synoptic Gospels (Matthew, Mark and Luke) to be the best sources for investigating the historical Jesus. Most scholars agree that Jesus was a Galilean, Jewish rabbi who preached his message orally, was baptized by John the Baptist, and was crucified by the order of the Roman Prefect Pontius Pilate. In the current mainstream view, Jesus was an apocalyptic preacher and the founder of a renewal movement within Judaism, although some prominent scholars argue that he was not apocalyptic. After Jesus' death, his followers believed he was resurrected, and the community they formed eventually became the Christian church. The widely used calendar era, abbreviated as "AD" from the Latin "Anno Domini" ("in the year of our Lord") or sometimes as "CE", is based on the birth of Jesus.
Christians believe that Jesus has a "unique significance" in the world. Christian doctrines include the beliefs that Jesus was conceived by the Holy Spirit, was born of a virgin named Mary, performed miracles, founded the Church, died by crucifixion as a sacrifice to achieve atonement, rose from the dead, and ascended into Heaven, whence he will return. Most Christians believe Jesus enables humans to be reconciled to God, and will judge the dead either before or after their bodily resurrection, an event tied to the Second Coming of Jesus in Christian eschatology; though some believe Jesus's role as savior has more existential or societal concerns than the afterlife, and a few notable theologians have suggested that Jesus will bring about a universal reconciliation. The great majority of Christians worship Jesus as the incarnation of God the Son, the second of three persons of a Divine Trinity. A few Christian groups reject Trinitarianism, wholly or partly, as non-scriptural.
In Islam, Jesus (commonly transliterated as Isa) is considered one of God's important prophets and the Messiah, second in importance only to Muhammad. To Muslims, Jesus was a bringer of scripture and was born of a virgin, but was not the Son of God. According to the Quran, Jesus was not crucified but was physically raised into Heaven by God. Judaism rejects the belief that Jesus was the awaited Messiah, arguing that he did not fulfill the Messianic prophecies in the Tanakh.
---
Mark the Evangelist is the traditional author of the Gospel of Mark. He is one of the Seventy Disciples, and the founder of the Church of Alexandria, one of the original four main episcopal sees of Christianity.
According to William Lane (1974), an "unbroken tradition" identifies Mark the Evangelist with John Mark, and John Mark as the cousin of Barnabas.[4] An exception is found in Hippolytus of Rome, who in his work On the Seventy Apostles, distinguishes Mark the Evangelist (2 Tim 4:11), John Mark (Acts 12:12, 25; 13:5, 13; 15:37), and Mark the cousin of Barnabas (Col 4:10; Phlm 24).[5] According to Hippolytus, they all belonged to the "Seventy Disciples" who were sent out by Jesus to saturate Judea with the gospel (Luke 10:1ff.). However, when Jesus explained that his flesh was "real food" and his blood was "real drink", many disciples left him (John 6:44-6:66), presumably including Mark. He was later restored to faith by the apostle Peter; he then became Peter's interpreter, wrote the Gospel of Mark, founded the church of Africa, and became the bishop of Alexandria.
According to Eusebius of Caesarea (Eccl. Hist. 2.9.1-4), Herod Agrippa I in his first year of reign over the whole Judea (AD 41) killed James, son of Zebedee and arrested Peter, planning to kill him after the Passover. Peter was saved miraculously by angels, and escaped out of the realm of Herod (Acts 12:1-19). Peter went to Antioch, then through Asia Minor (visiting the churches in Pontus, Galatia, Cappadocia, Asia, and Bithynia, as mentioned in 1 Pet 1:1), and arrived in Rome in the second year of Emperor Claudius (AD 42; Eusebius, Eccl, Hist. 2.14.6). Somewhere on the way, Peter picked up Mark and took him as travel companion and interpreter. Mark the Evangelist wrote down the sermons of Peter, thus composing the Gospel according to Mark (Eccl. Hist. 15-16), before he left for Alexandria in the third year of Claudius (43).
In AD 49, about 19 years after the Ascension of Jesus, Mark traveled to Alexandria [cf. c. 49 [cf. Acts 15:36-41] and founded the Church of Alexandria, which today is part of the Coptic Orthodox Church. Aspects of the Coptic liturgy can be traced back to Mark himself. He became the first bishop of Alexandria and he is honored as the founder of Christianity in Africa.
According to Eusebius (Eccl. Hist. 2.24.1), Mark was succeeded by Annianus as the bishop of Alexandria in the eighth year of Nero (62/63), probably, but not definitely due to his coming death. Later Coptic tradition says that he was martyred in 68. It is believed that on the night when Jesus was arrested in the garden of Gethsemane Mark had followed him there and the Temple guards saw him, he ran away and dropped his loincloth.
His feast day is celebrated on April 25, and his symbol is the Winged lion.
---
Frequently Asked Questionsss
How long until my order is shipped?
Depending on the volume of sales, it may take up to 5 business days for shipment of your order after the receipt of payment.
How will I know when the order was shipped?
After your order has shipped, you will be left positive feedback, and that date should be used as a basis of estimating an arrival date.

USPS First Class mail takes about 3-5 business days to arrive in the U.S., international shipping times cannot be estimated as they vary from country to country. I am not responsible for any USPS delivery delays, especially for an international package.
What is a certificate of authenticity and what guarantees do you give that the item is authentic?
Each of the items sold here, is provided with a Certificate of Authenticity, and a Lifetime Guarantee of Authenticity, issued by a world-renowned numismatic and antique expert that has identified over 10000 ancient coins and has provided them with the same guarantee. You will be quite happy with what you get with the COA; a professional presentation of the coin, with all of the relevant information and a picture of the coin you saw in the listing.
Compared to other certification companies, the certificate of authenticity is a $25-50 value. So buy a coin today and own a piece of history, guaranteed.
Is there a money back guarantee?
I offer a 30 day unconditional money back guarantee. I stand behind my coins and would be willing to exchange your order for either store credit towards other coins, or refund, minus shipping expenses, within 30 days from the receipt of your order. My goal is to have the returning customers for a lifetime, and I am so sure in my coins, their authenticity, numismatic value and beauty, I can offer such a guarantee.
Is there a number I can call you with questions about my order?
You can contact me directly via ask seller a question and request my telephone number, or go to my About Me Page to get my contact information only in regards to items purchased on .
When should I leave feedback?
Once you receive your order, please leave a positive. Please don't leave any negative feedbacks, as it happens many times that people rush to leave feedback before letting sufficient time for the order to arrive. Also, if you sent an email, make sure to check for my reply in your messages before claiming that you didn't receive a response. The matter of fact is that any issues can be resolved, as reputation is most important to me. My goal is to provide superior products and quality of service.
Listing Information
| | |
| --- | --- |
| Listing Type | Gallery Listing |
| Listing ID# | 155225207 |
| Start Time | Wed 01 Mar 2017 17:21:43 (EST) |
| Close Time | Thu 12 Oct 2017 11:38:36 (EST) |
| Starting Bid | Fixed Price (no bidding) |
| Item Condition | See Descr. |
| Bids | 0 |
| Views | 1 |
| Dispatch Time | Next Day |
| Quantity | 1 |
| Location | United States |
| Auto Extend | No |
Purchase Activity
Username
Time & Date
Amount
No Bids as of Yet

This is a single item listing. If an auction is running, the winning bidder will be the highest bidder.