Banner Stake, Medieval Re-enactment, Flag pole holder
Condition : New
Dispatch : Not given

Barcode

:

None

Brand : None
Quantity : 5 items


(still available: 5)

Views : 2
Location : United Kingdom
Seller :

the_iron_dwarf

(+161)
Start : Sun 12 Aug 2018 20:40:09 (BST)
Close : Wed 22 Aug 2018 20:40:09 (BST)

Remain :

BACS/EFT Bank Transfer, Checks/Cheques, Money/Postal Orders, Other: See Description
Domestic Shipping to
United Kingdom

for
1
item(s)
edit
Other Courier - (Non Next Day) = £15.00 (extra item £3.00)
Seller's Description
A metal stake for holding a medieval banner or flagpole
rings are about 50mm or 2" clearance inside and is about 4' tall, ( also available in about 60mm inside the rings ).
I can normally supply 2 piece wooden pole sets for this totaling about 12' or 3.65 metres with a section of stainless steel tube to join them in the middle. how you fix the flag, banner or pennant to the pole I will leave to you but can offer several easy ways to do it if you need help.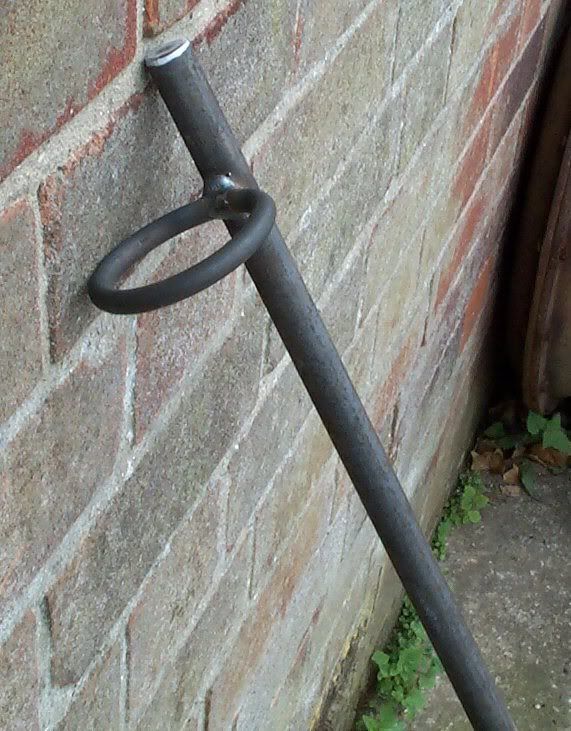 these are normally supplied unpainted but can at a small extra charge be powder coated for you.
these stakes will have many more uses.
I do not know the postage cost for one of these but could probably send 10 of them for about 15 pounds by 48 hour delivery or it can be collected in person from my workshop or at any event I go to.
places considered as 'offshore' by the carriers I use like Northern Ireland may take a day or two longer and may cost a little more, please contact me if in doubt.
I am also happy for you to arrange your own carrier to collect from me if you wish
IF PAYING BY PAYPAL I WILL SEND THIS BY SPECIAL DELIVERY AT EXTRA COST TO COMPLY WITH THEIR RULES.
IF COLLECTING IN PERSON I ACCEPT CASH ON COLLECTION.
PLEASE ASK IF YOU HAVE ANY QUESTIONS. pole kits will also be avaliable, just ask
Not a member of Ebid yet?


you can join here and it is free!!!!!!!
Listing Information
| | |
| --- | --- |
| Listing Type | Gallery Listing |
| Listing ID# | 170295137 |
| Start Time | Sun 12 Aug 2018 20:40:09 (BST) |
| Close Time | Wed 22 Aug 2018 20:40:09 (BST) |
| Starting Bid | Fixed Price (no bidding) |
| Item Condition | New |
| Bids | 0 |
| Views | 2 |
| Dispatch Time | Not given |
| Quantity | 5 |
| Location | United Kingdom |
| Auto Extend | No |
Returns Policy
Returns Accepted
Purchase Activity
Winning Bids
Bidder Username
Bid Time & Date
Bid
Qty
No Bids as of Yet

Important :Multiple items available. See more info links above in the "Bid" or "BuyNow" forms.
Questions and Answers
Question From Scolie [0]
Wed 20 Jun 2018 09:08:24 (BST)
Hello, what us the price including delivery to Devon of the holder aand wooden pole to match? Thanks.
Answer From the_iron_dwarf [+161]


Wed 20 Jun 2018 18:50:18 (BST)

go to your local garden center or big DIY store and look for tree stakes, will cost too much to send you one, can send the stake